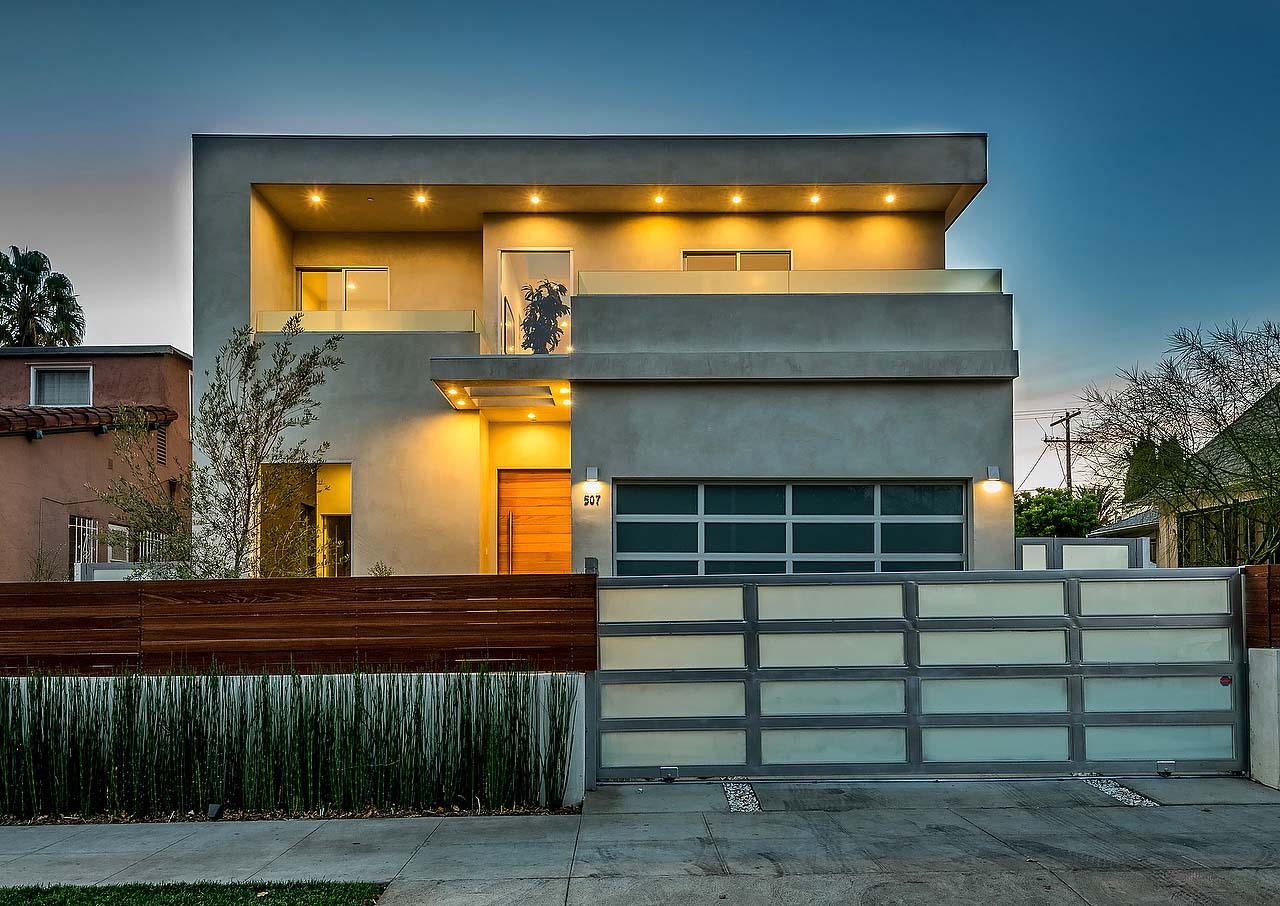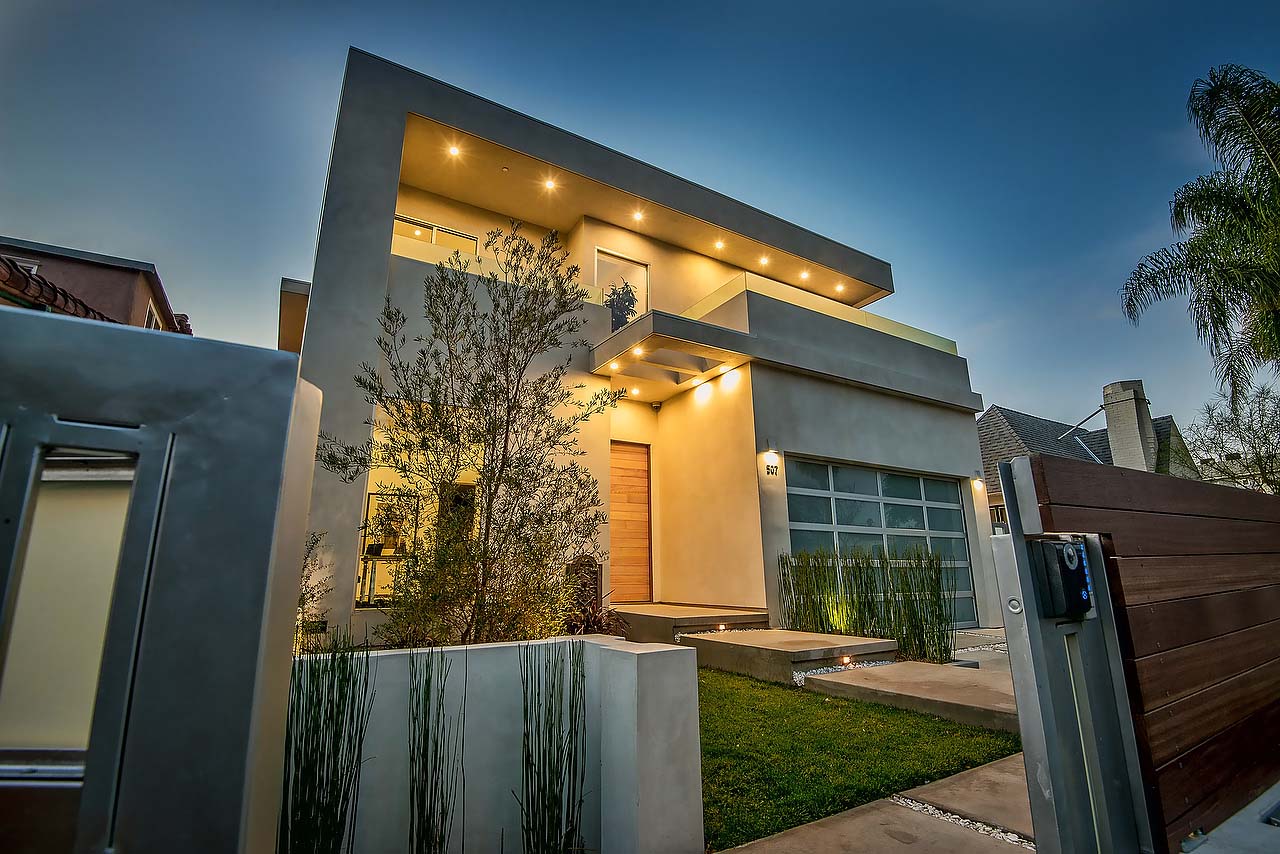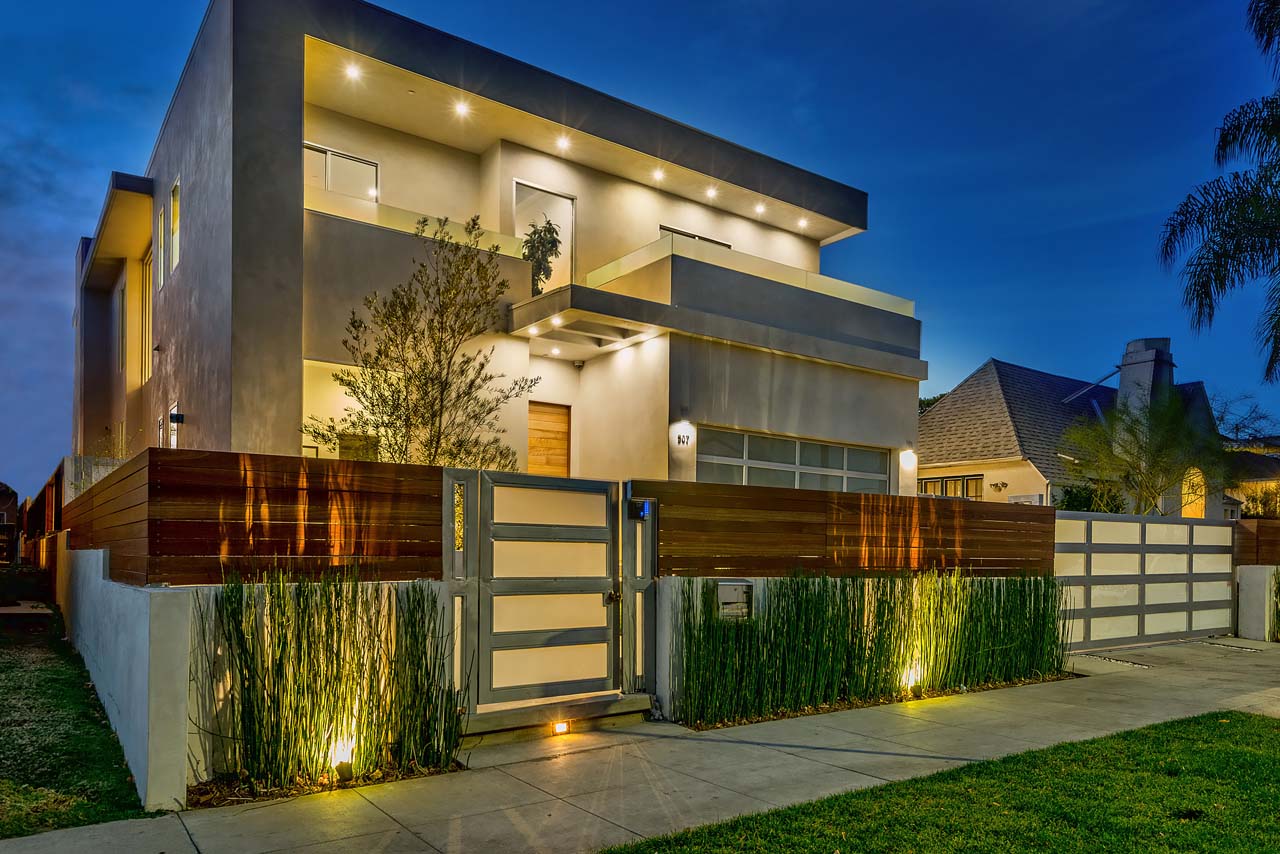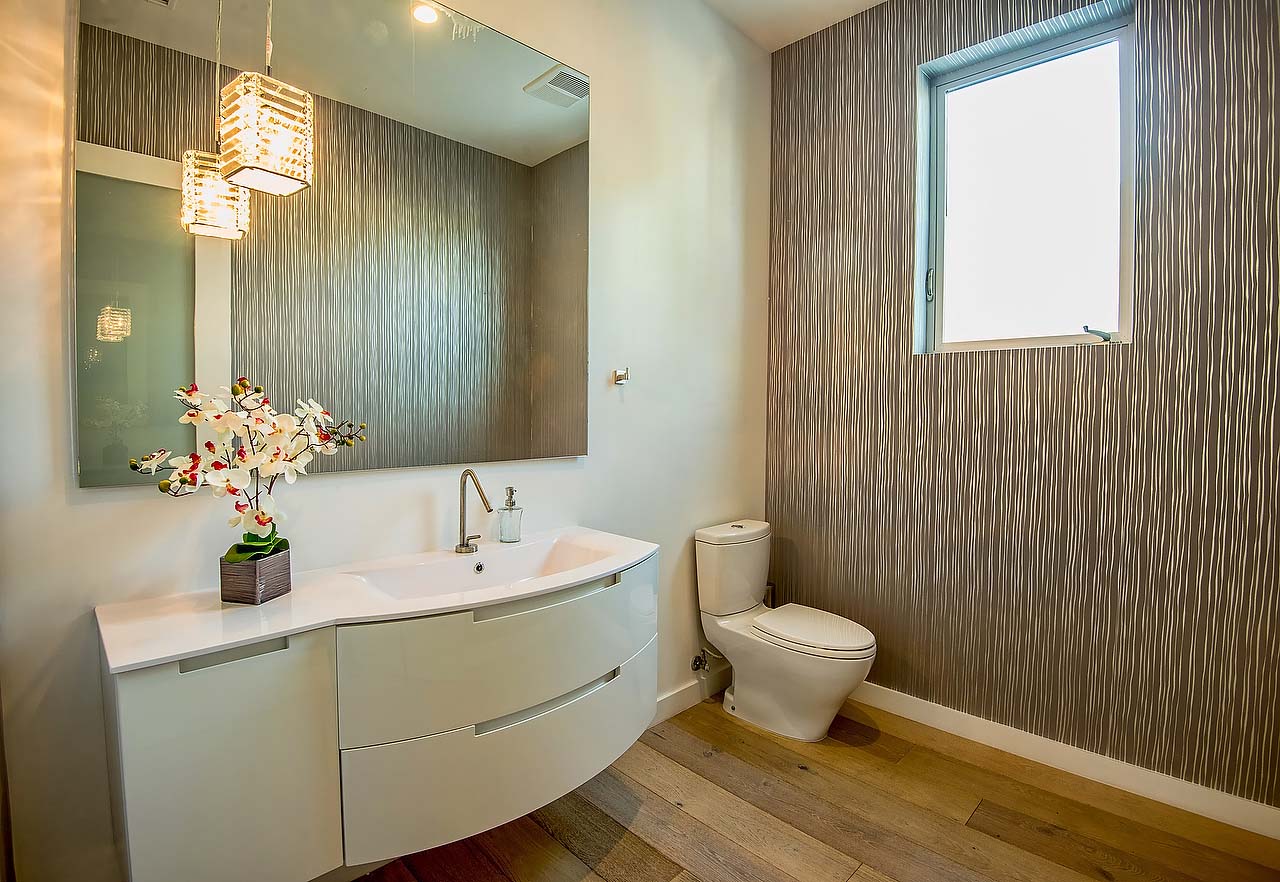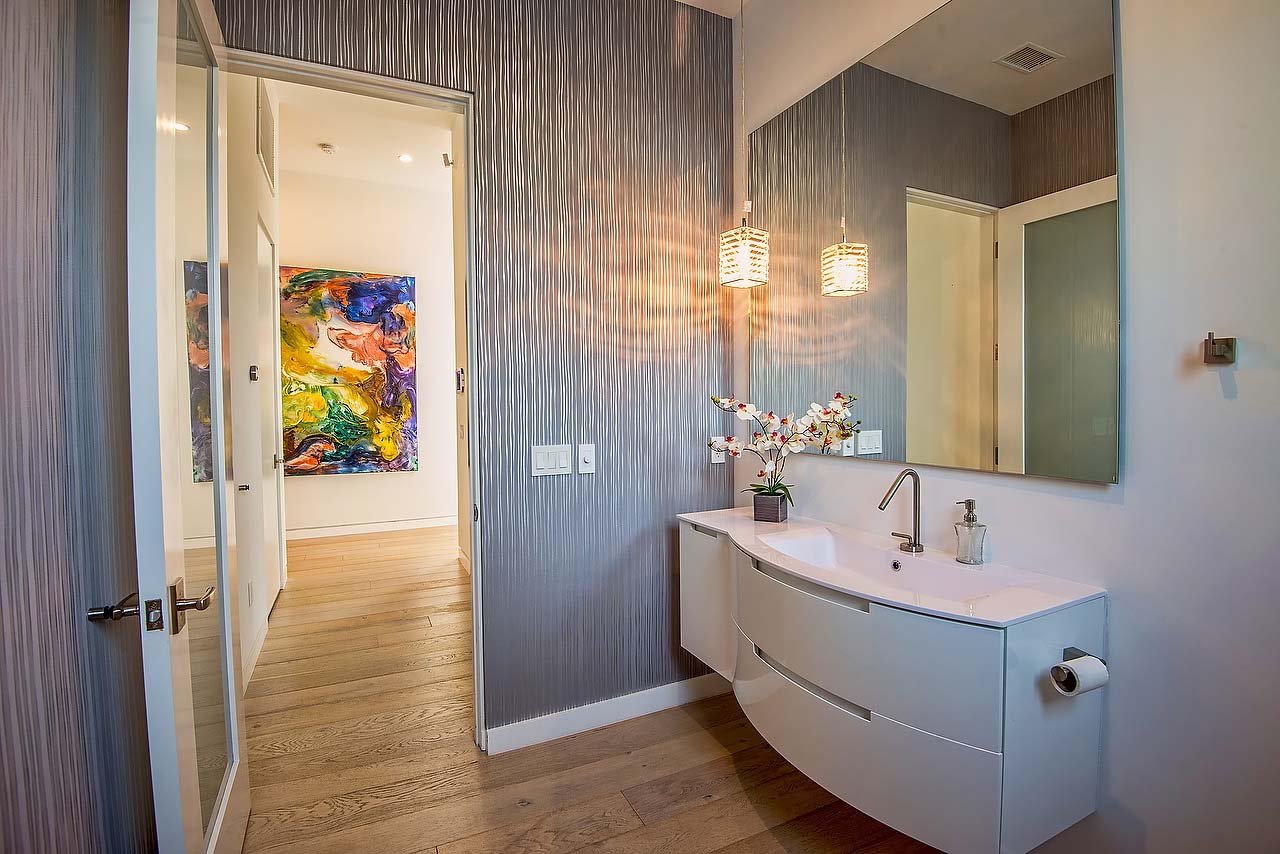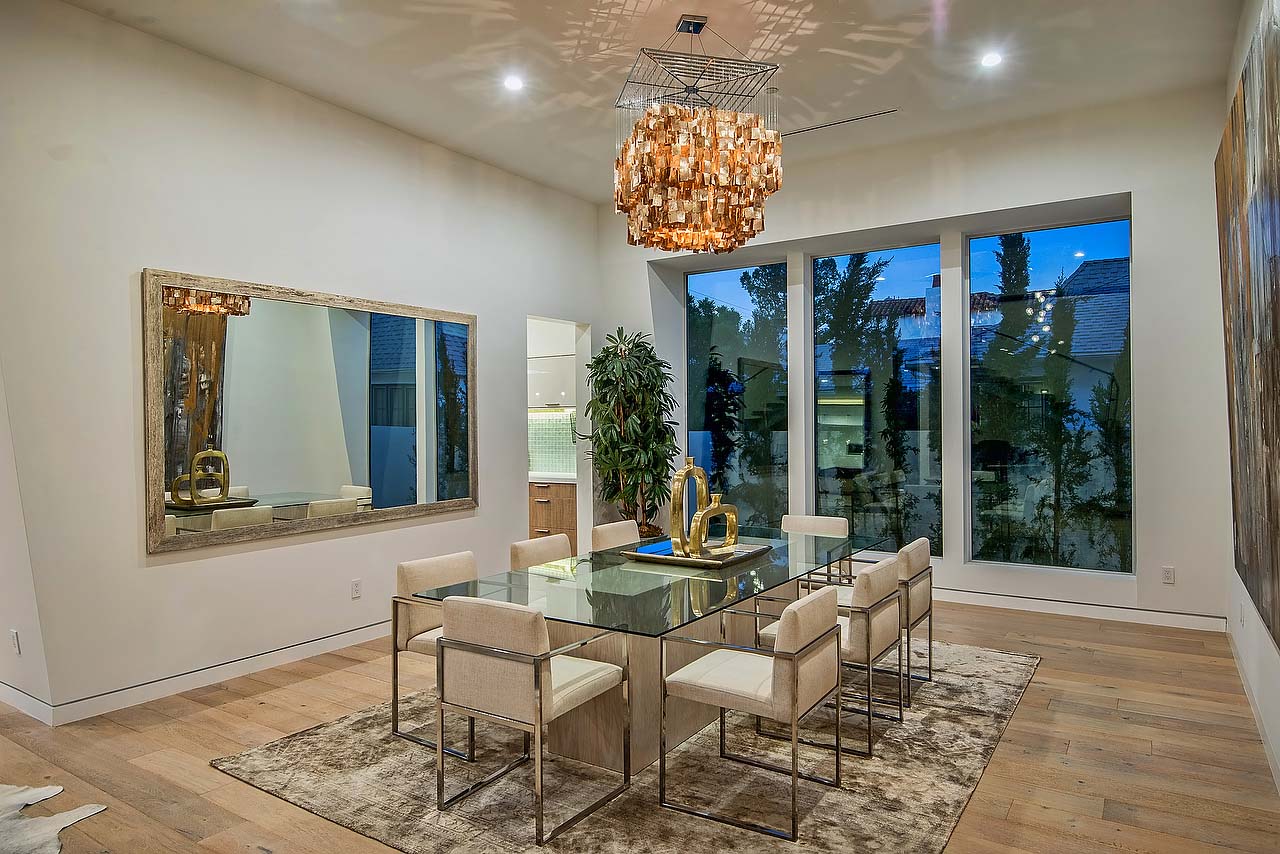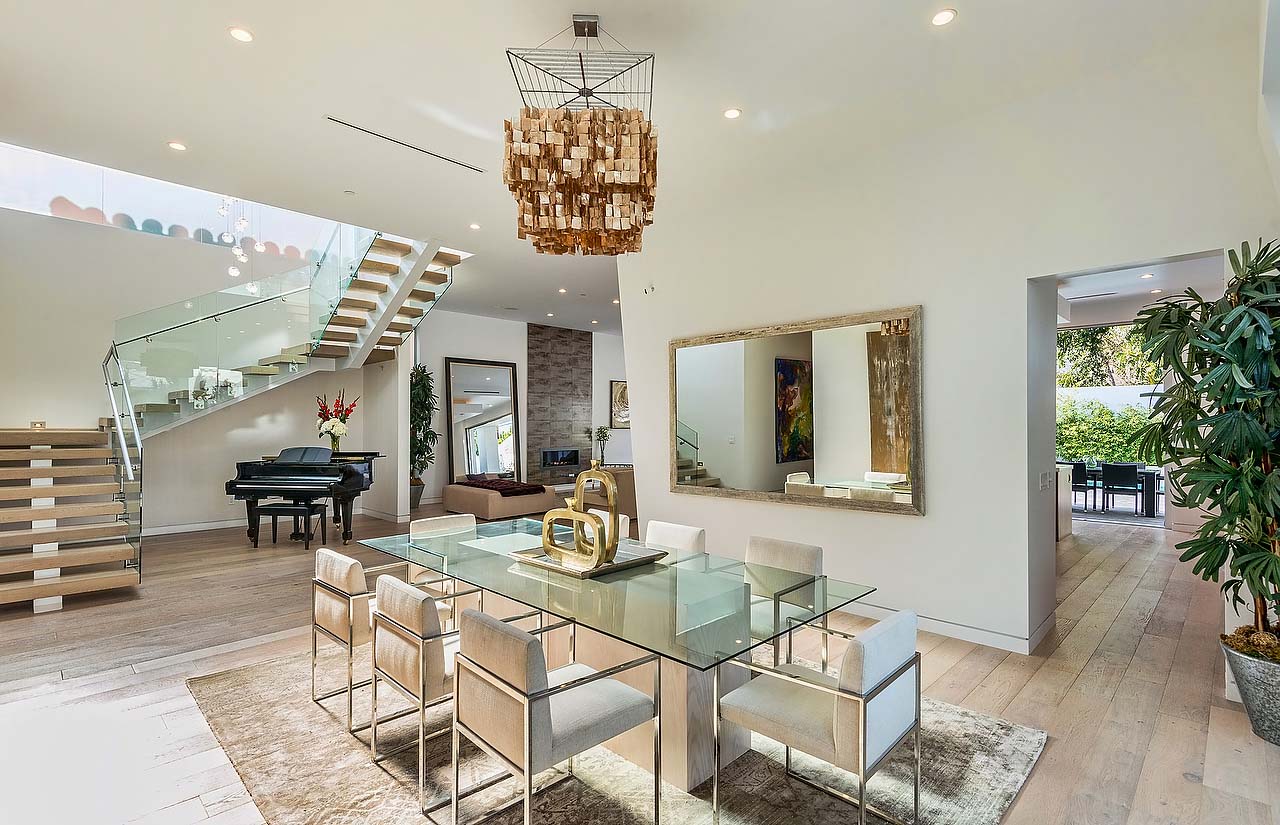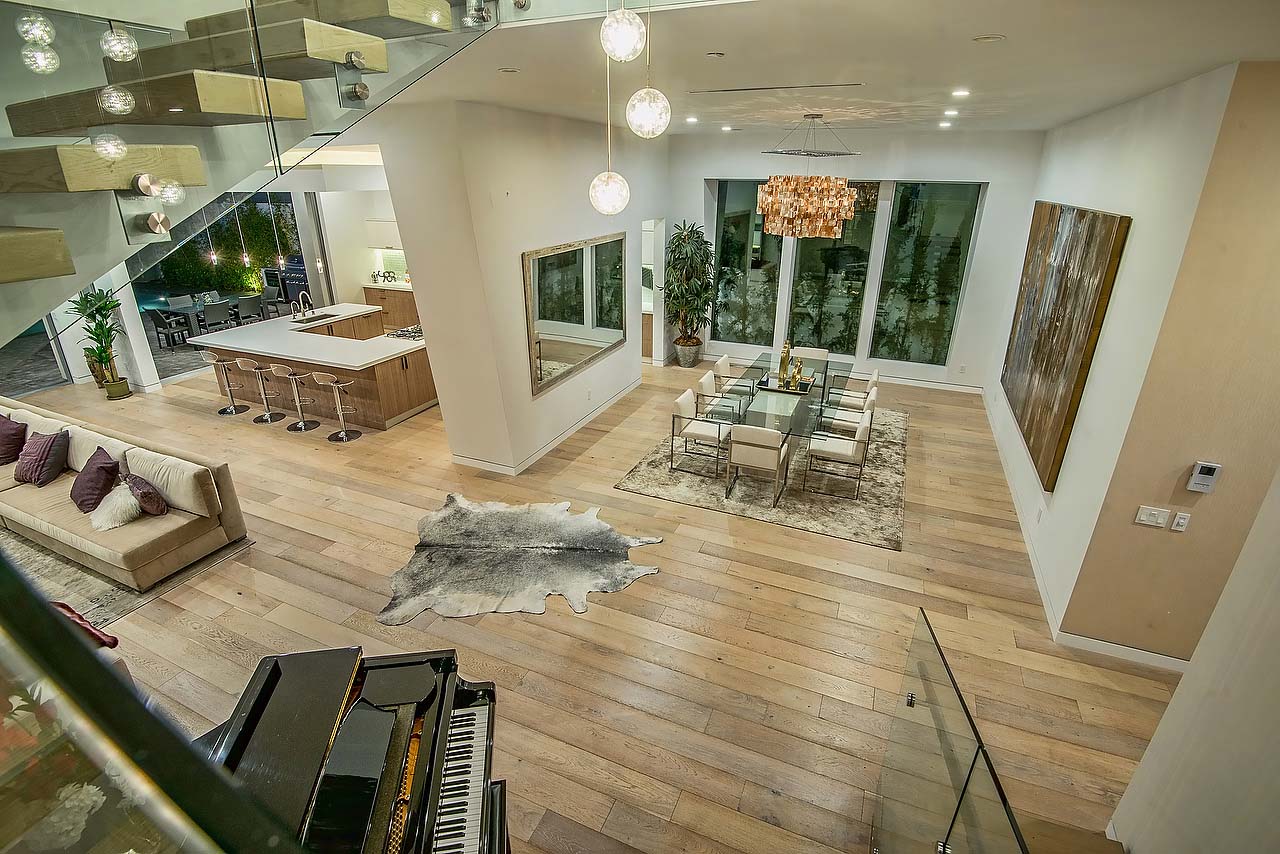 The Entry
The design of this brand-new construction prioritized modernity, sleekness, sophistication, and clean lines. The property is gated and hedged, offering a completely private indoor-outdoor living experience. Welcoming you into the home is a Pivot Oak Door, inviting you to discover the beauty within.
As you step inside, you are greeted by a vast open space that stretches far and wide. This expansive feel is achieved through the use of large openings, 12-foot ceilings, and Fleetwood pocket doors that seamlessly connect the interior with the impressive backyard. The color scheme of the house revolves around light, soft colors. We opted for washed oak wide plank wood flooring, white lacquer cabinetry, and modern, soft light fixtures to complement the space.
Spanning over 4,000 square feet, this 5-bedroom, 5.5-bathroom home is flooded with natural light thanks to walls of glass and multiple skylights. The modern design features an open floor plan with voluminous ceilings, and floor-to-ceiling Fleetwood pocket doors that effortlessly merge the interior with the expansive entertainer's backyard. Here, you can enjoy the zero-edge salt water pool and spa, a cozy fire pit sitting area, an outdoor kitchen, and a covered patio.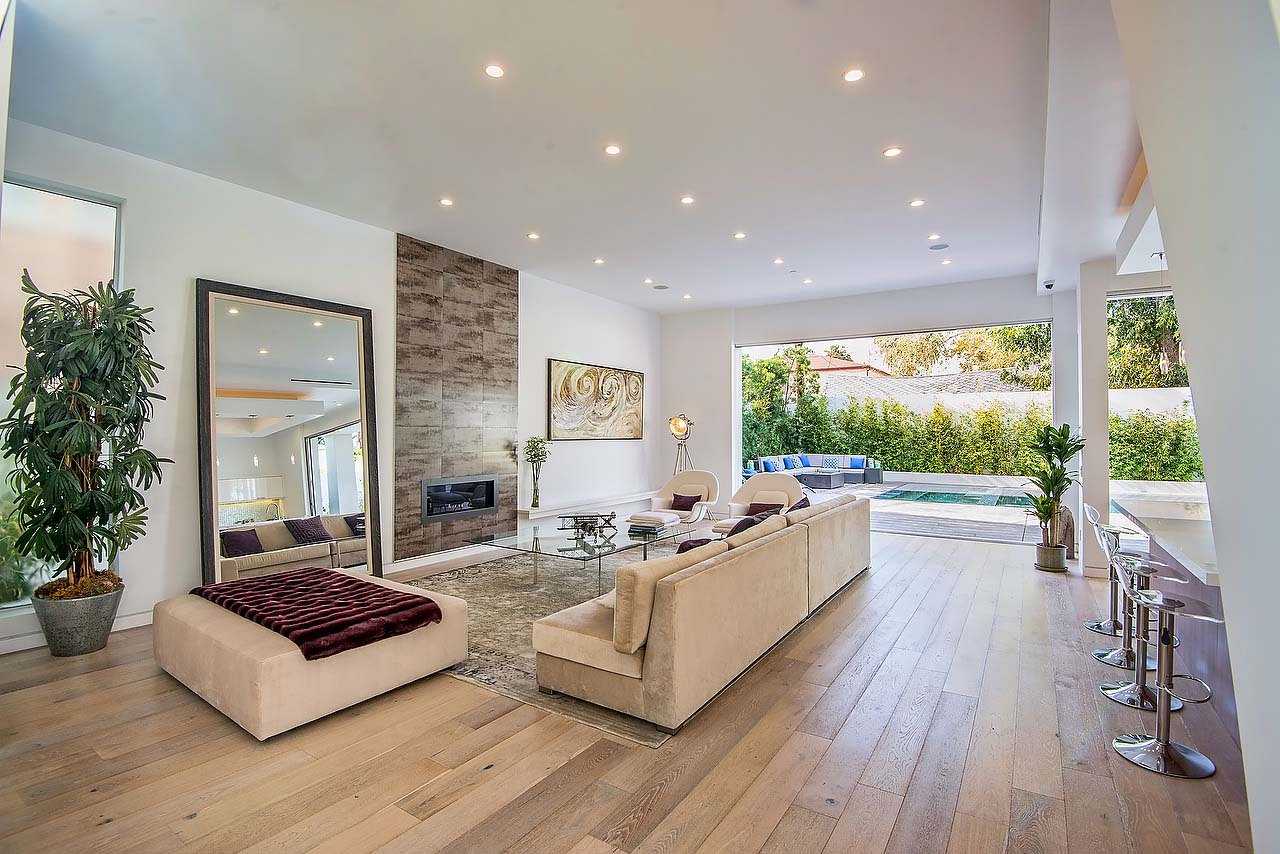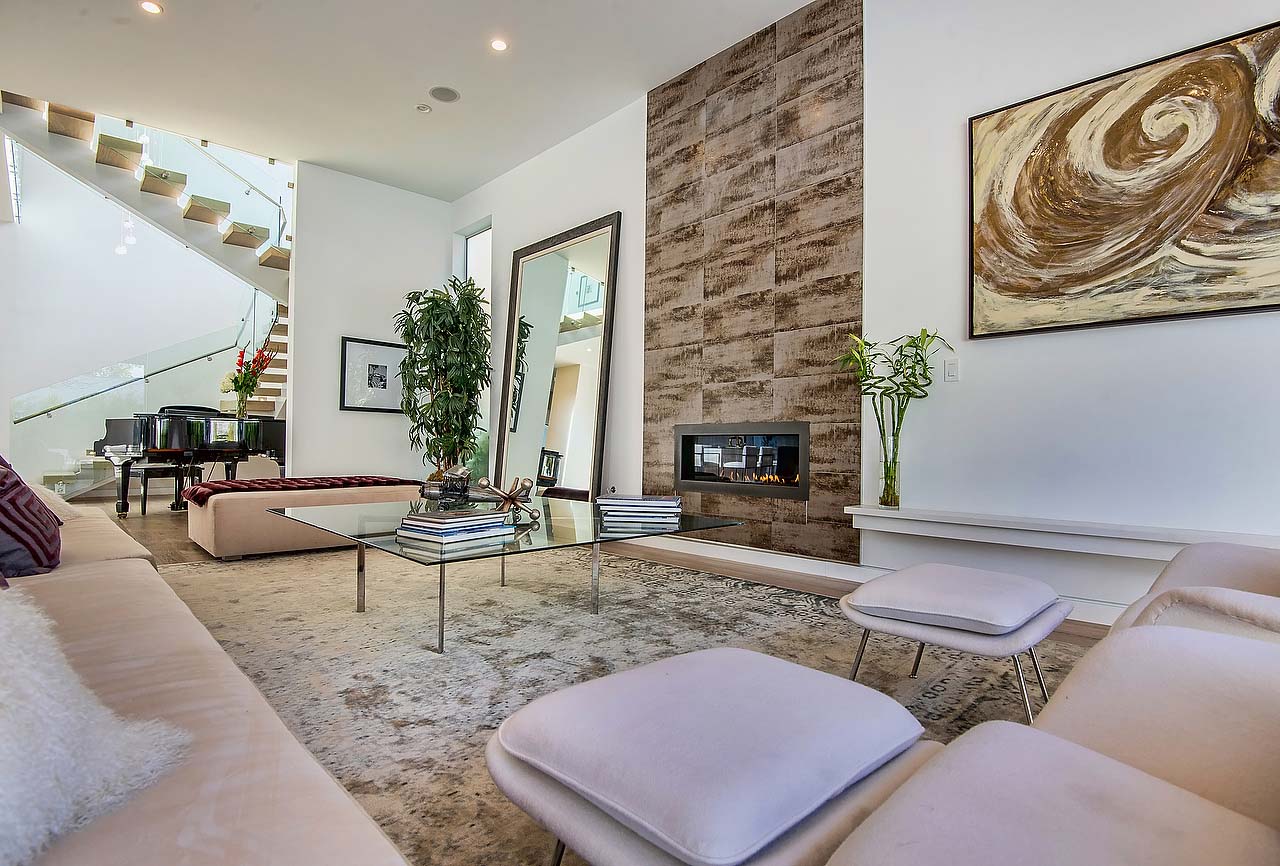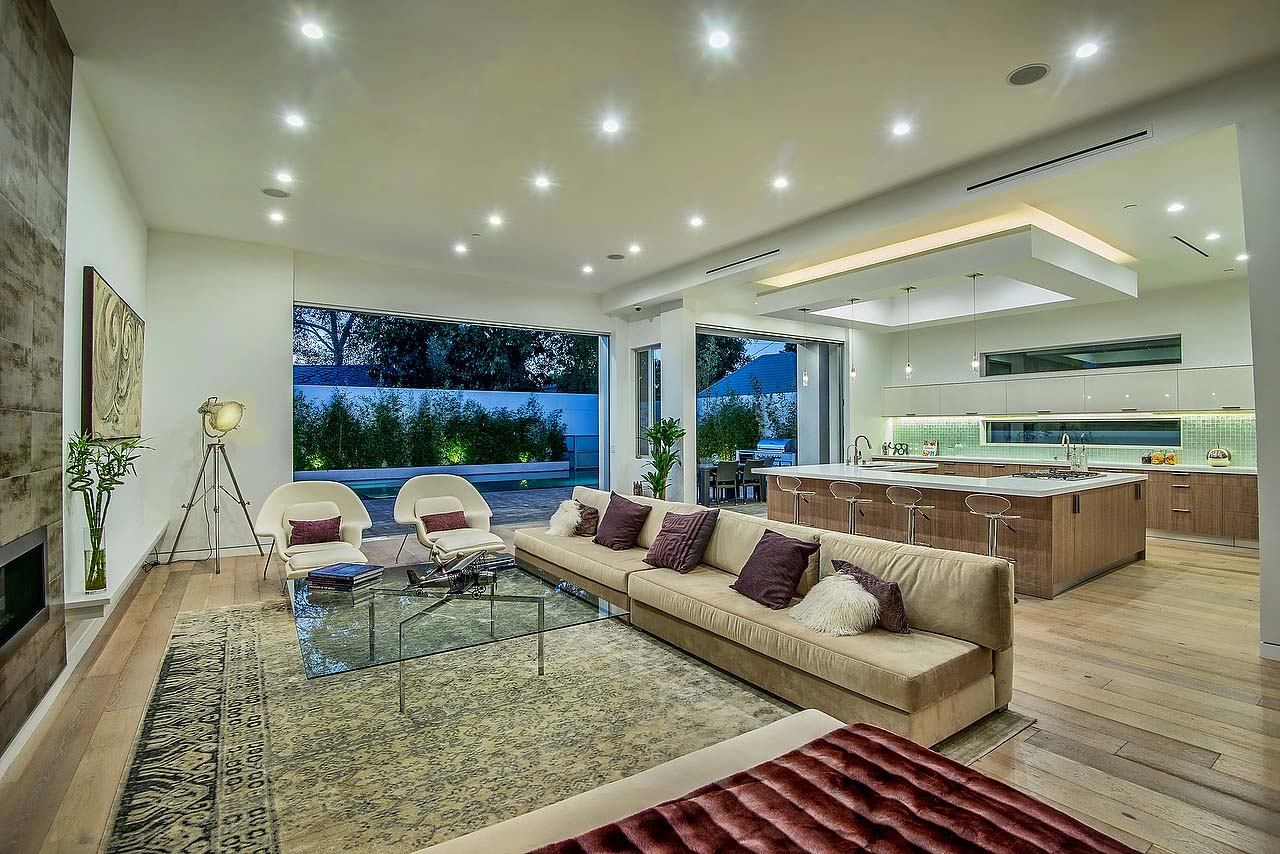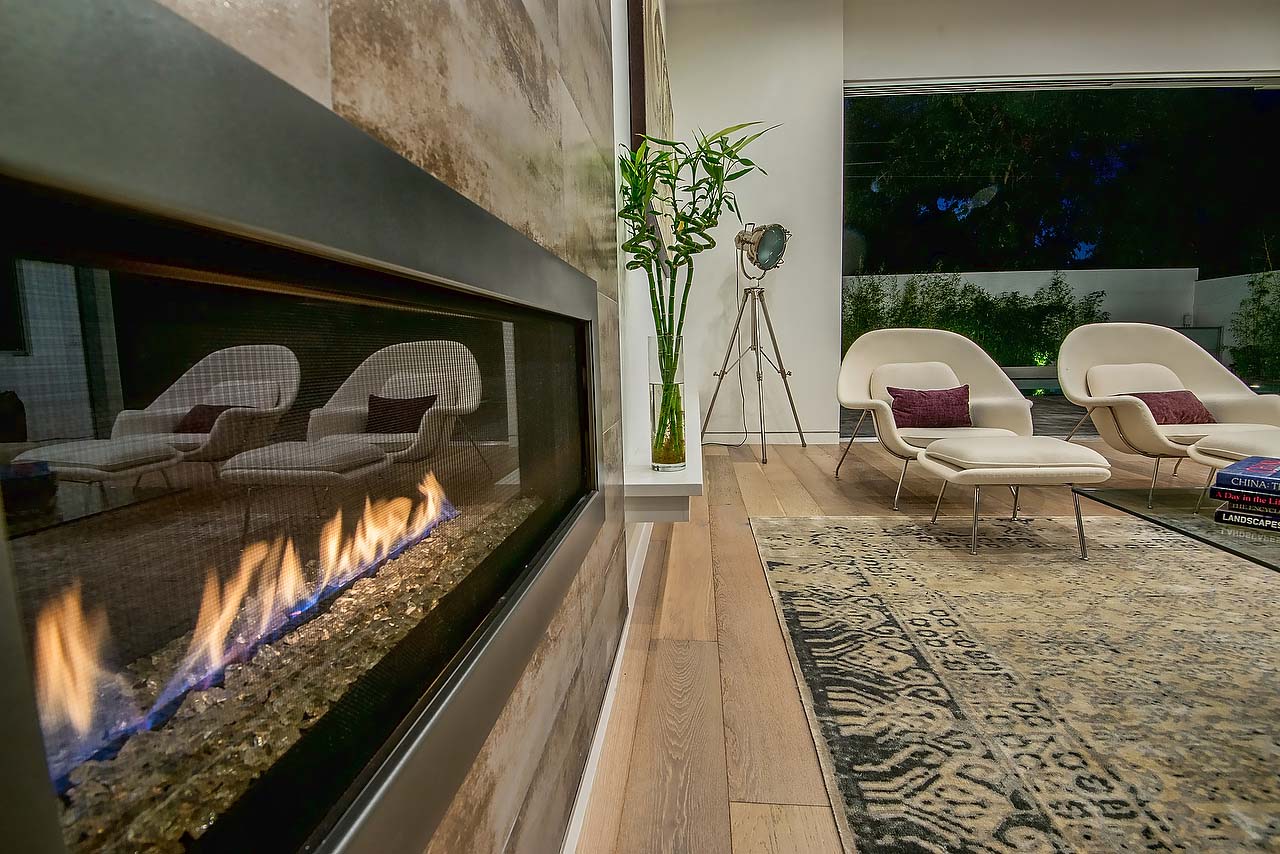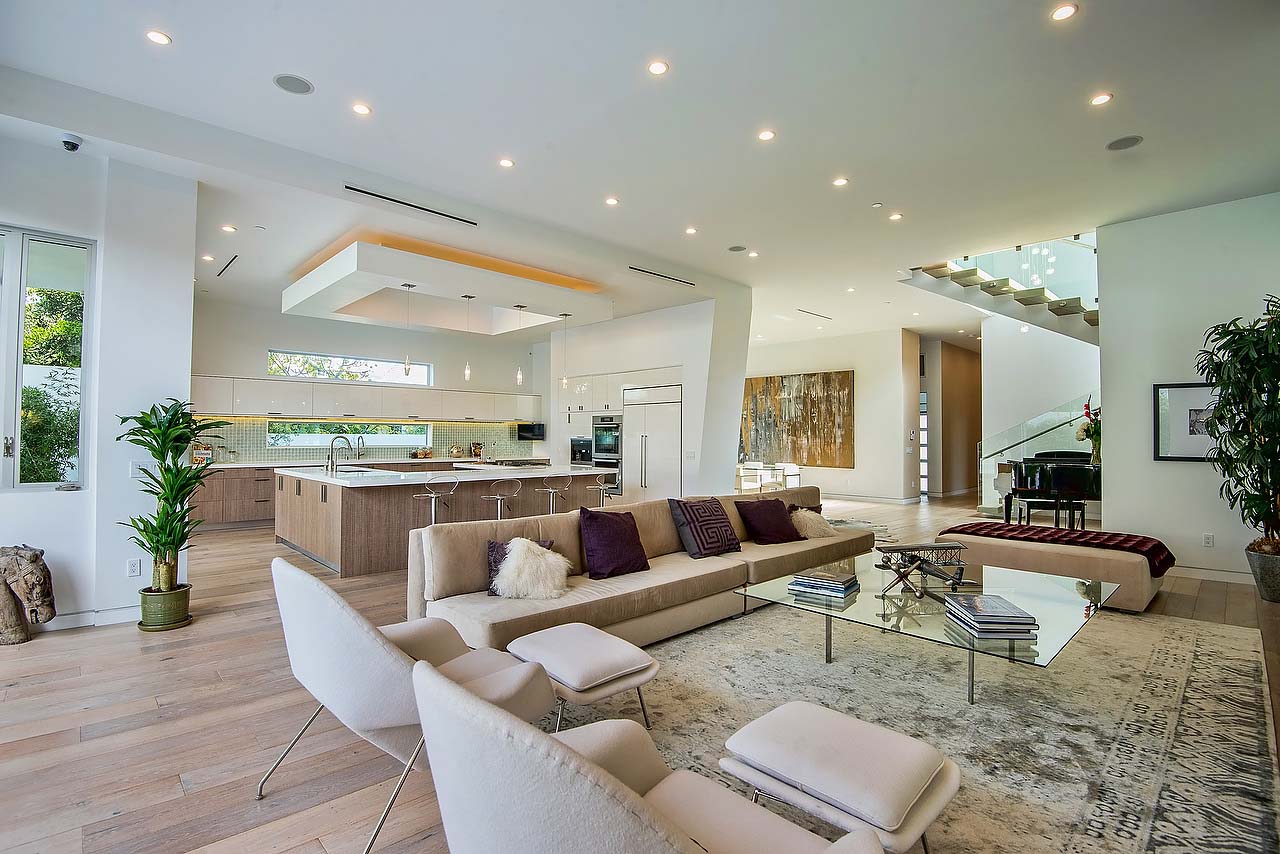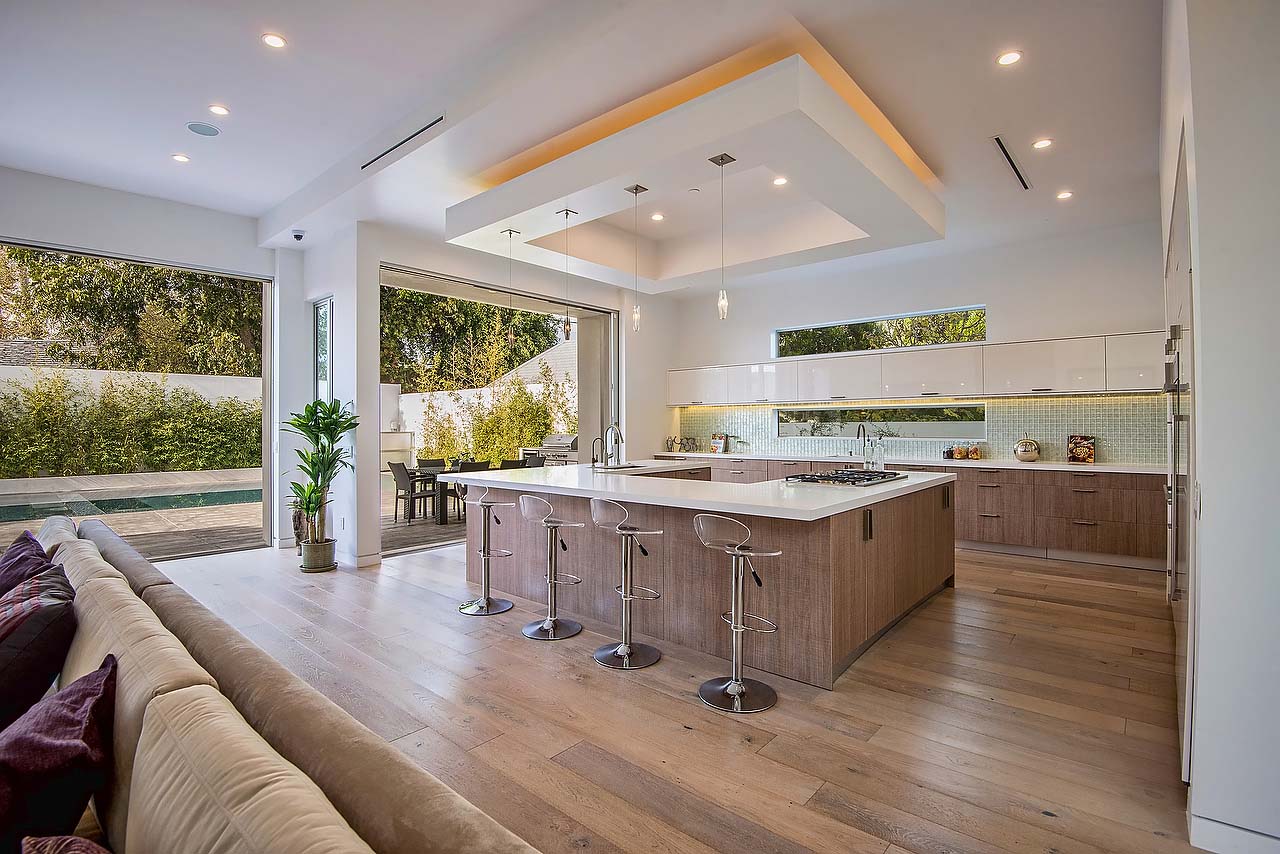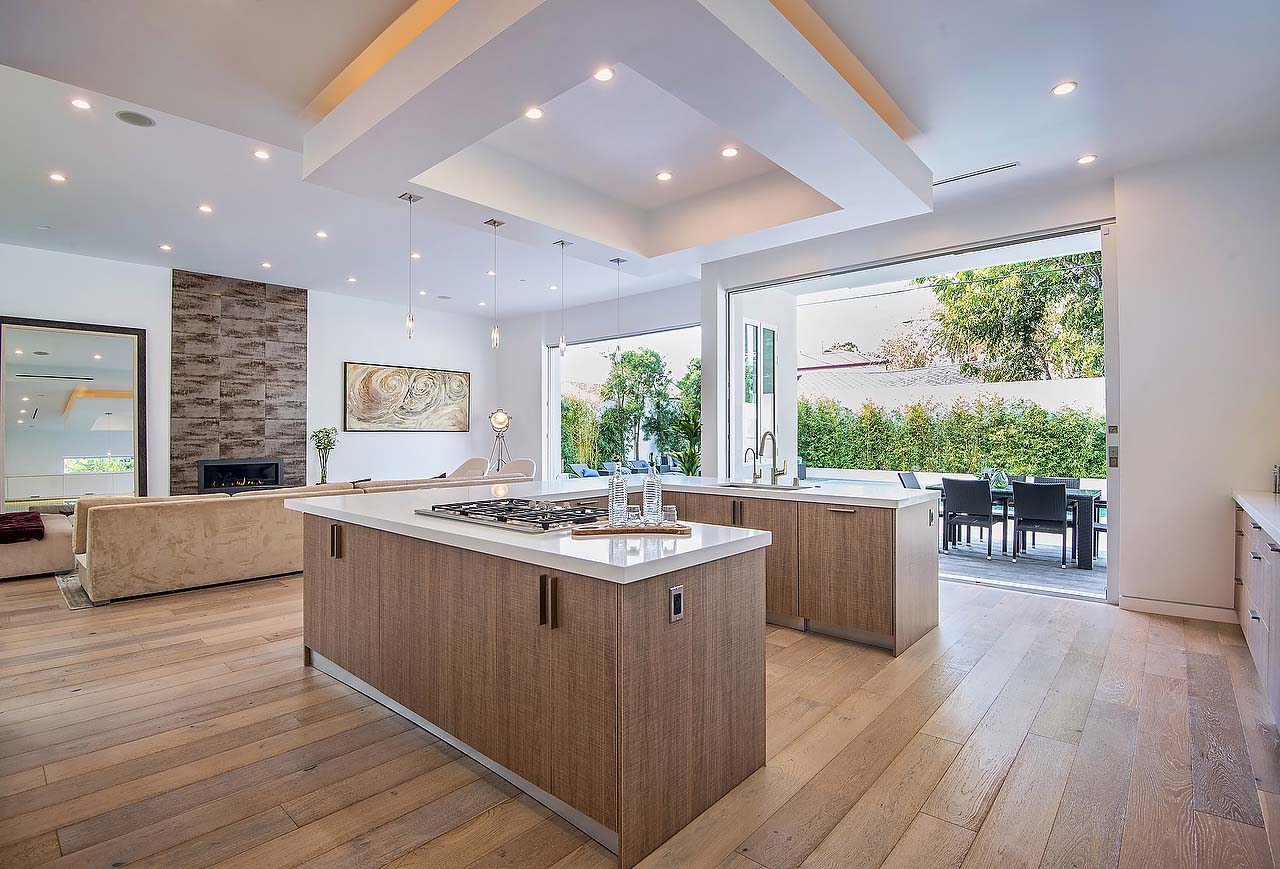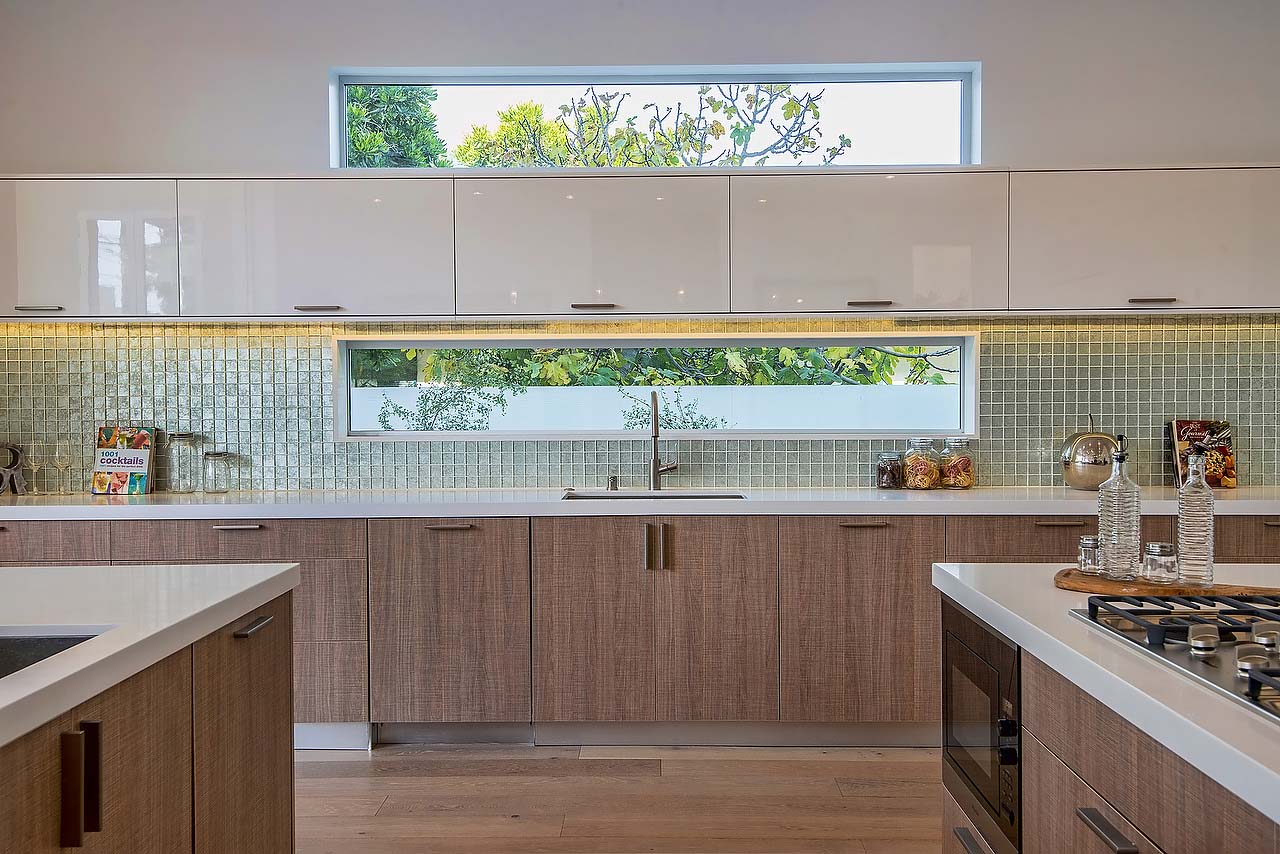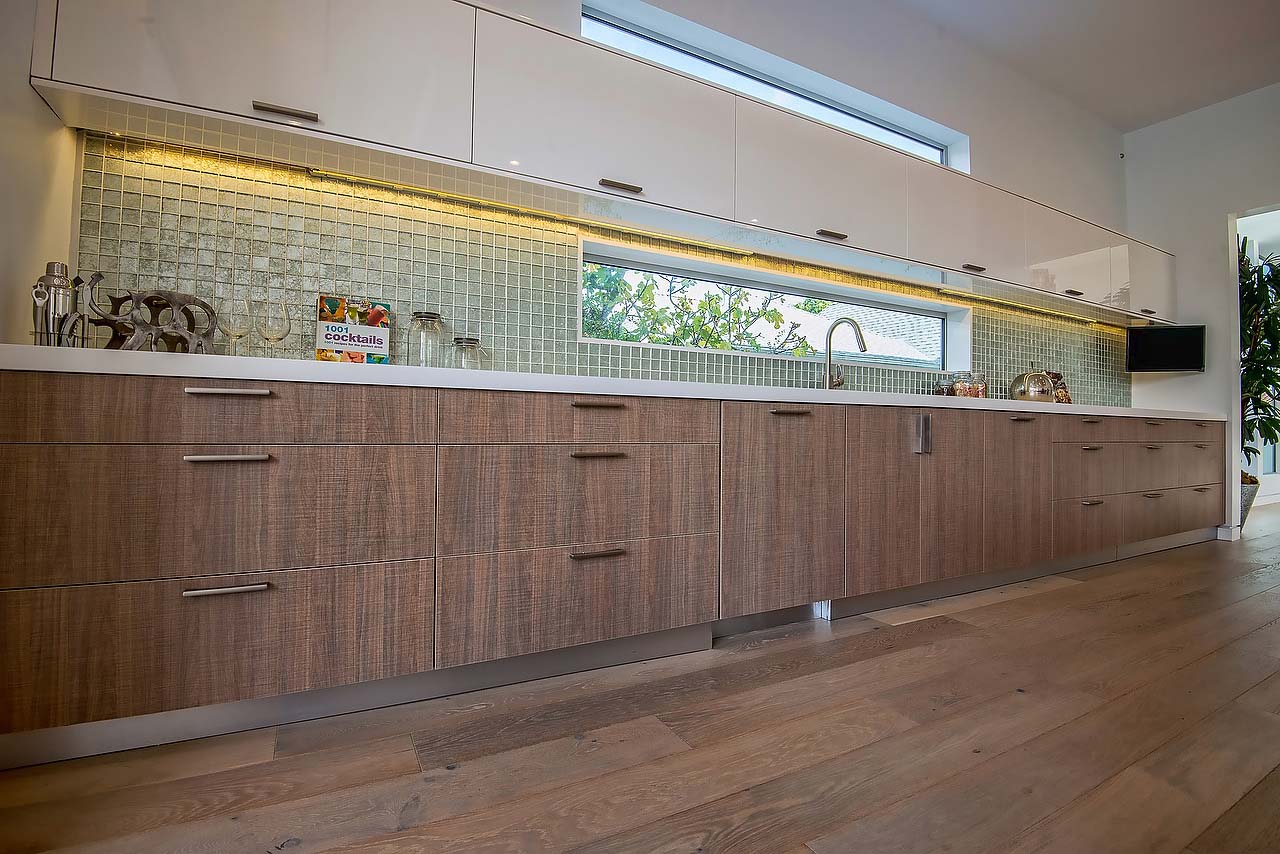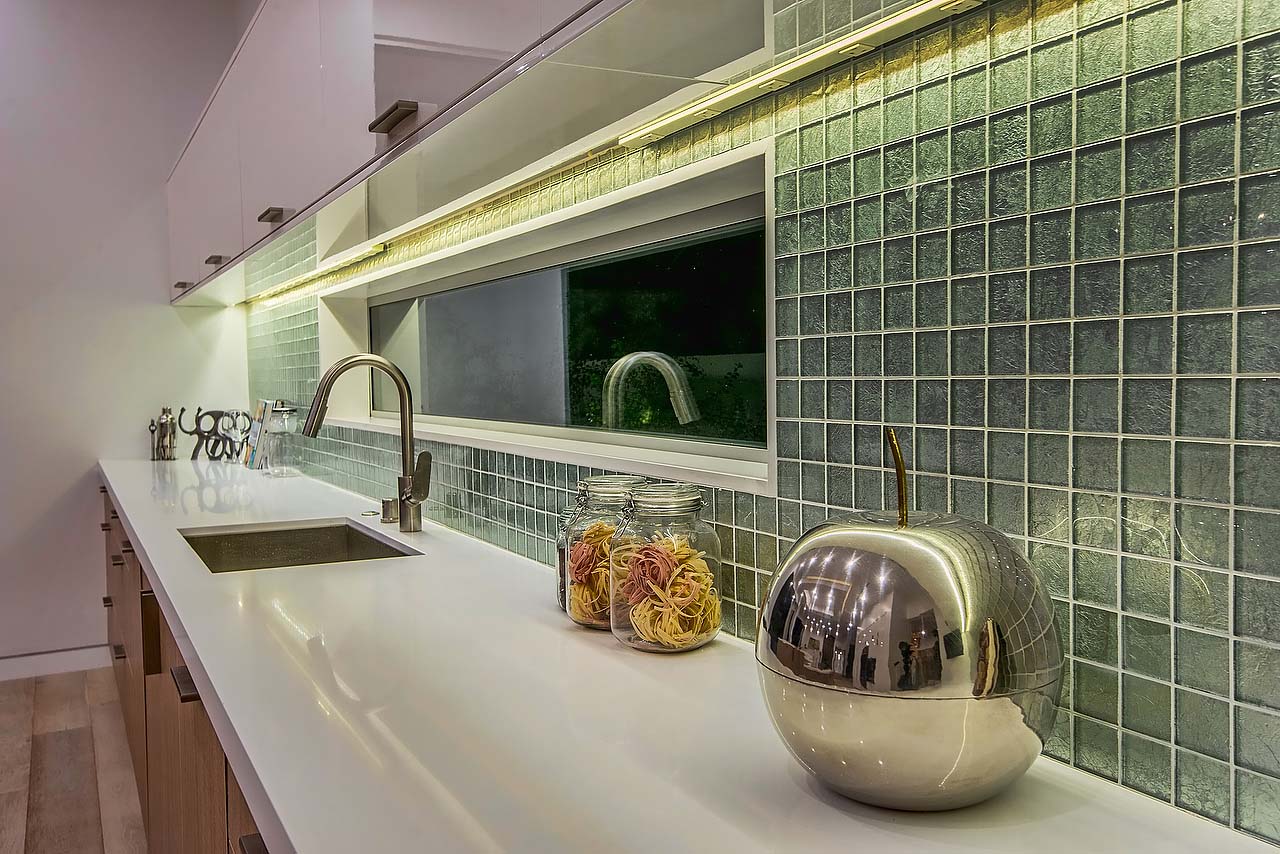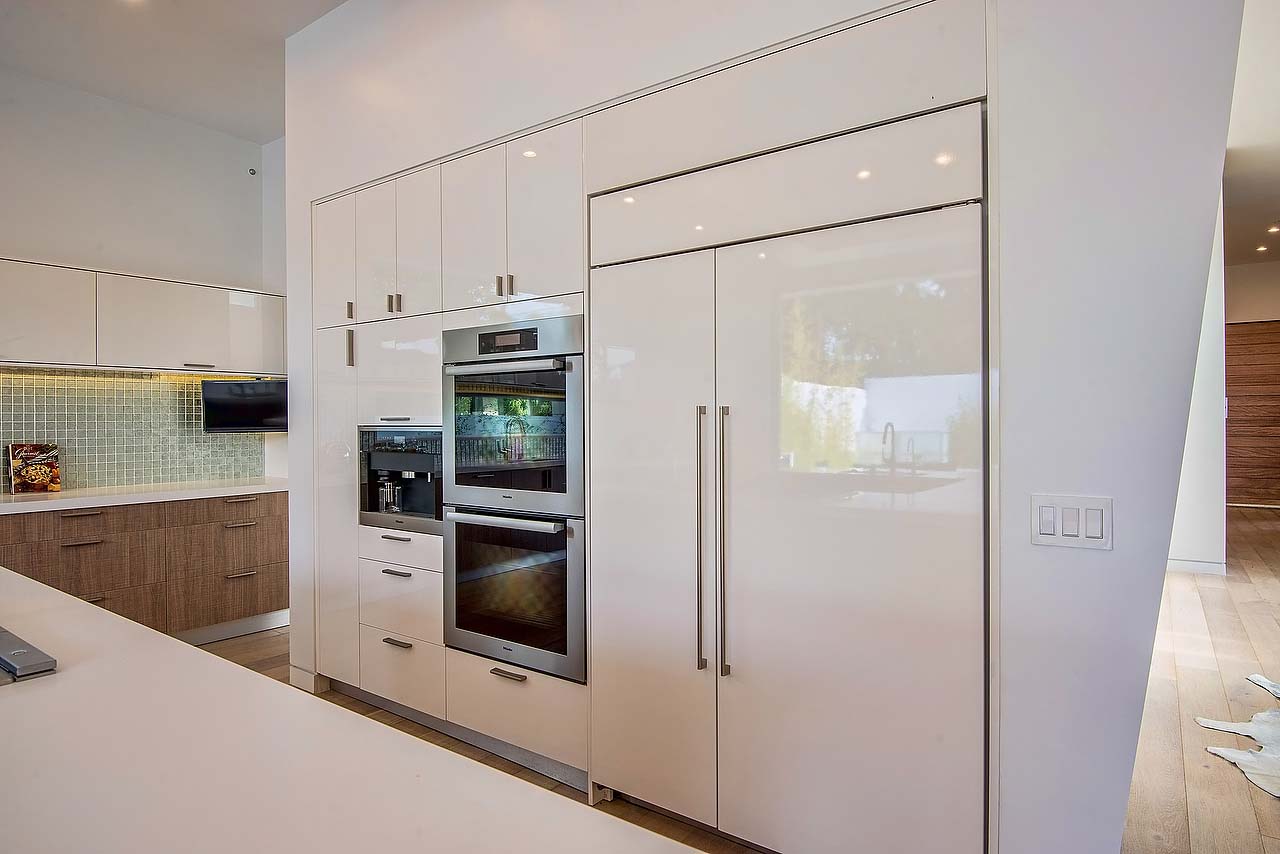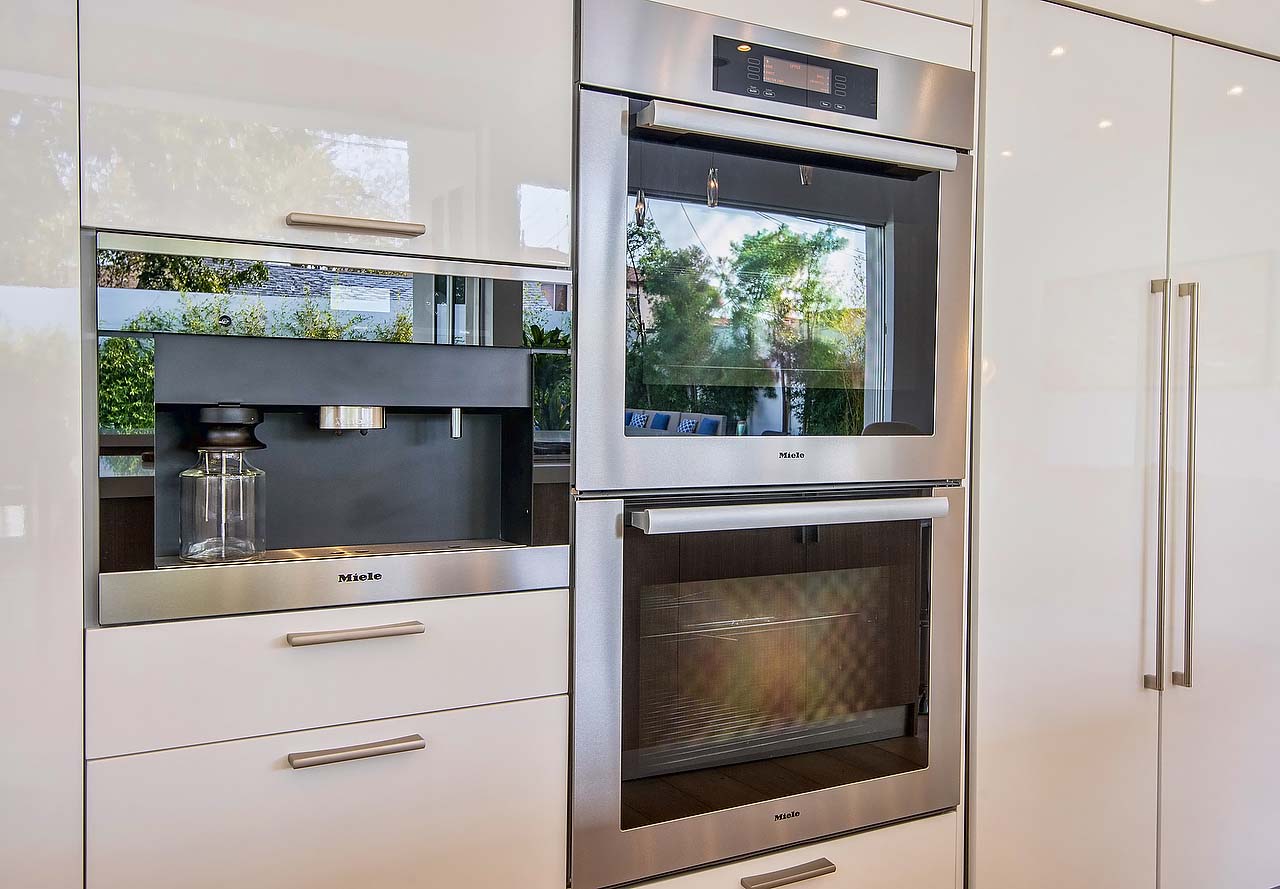 The Open-Concept Kitchen
Undoubtedly, the kitchen takes center stage in this home, with the owner's desire for an exceptionally spacious yet modern and pristine culinary space. The kitchen slider seamlessly connects to an outdoor partially covered patio, thoughtfully designed as an additional dining area perfect for Sunday brunches or hosting memorable dinners.
To create a cohesive design, the back wall was dedicated to a long line of cabinets, including middle-height white lacquer cabinets that beautifully framed the Miele appliances wall. To add both functionality and style, we incorporated a unique U-shaped island, accompanied by decorative soffits that not only provided additional workspace but also offered a casual dining spot for family members to enjoy informal dinners.
This chef's kitchen boasts Italian cabinetry, a central island, and top-of-the-line Miele appliances. Designer lighting and plumbing fixtures, along with impressive wide plank walnut engineered hardwood floors, elevate the space. The home features Control4 home automation, enabling seamless control of multiple surround sound zones, a Sonos sound system, CCTV, and automated window shades—all conveniently managed from a tablet or smartphone. Three stunning linear fireplaces, two indoors and one outdoors, add a touch of elegance and warmth to the home.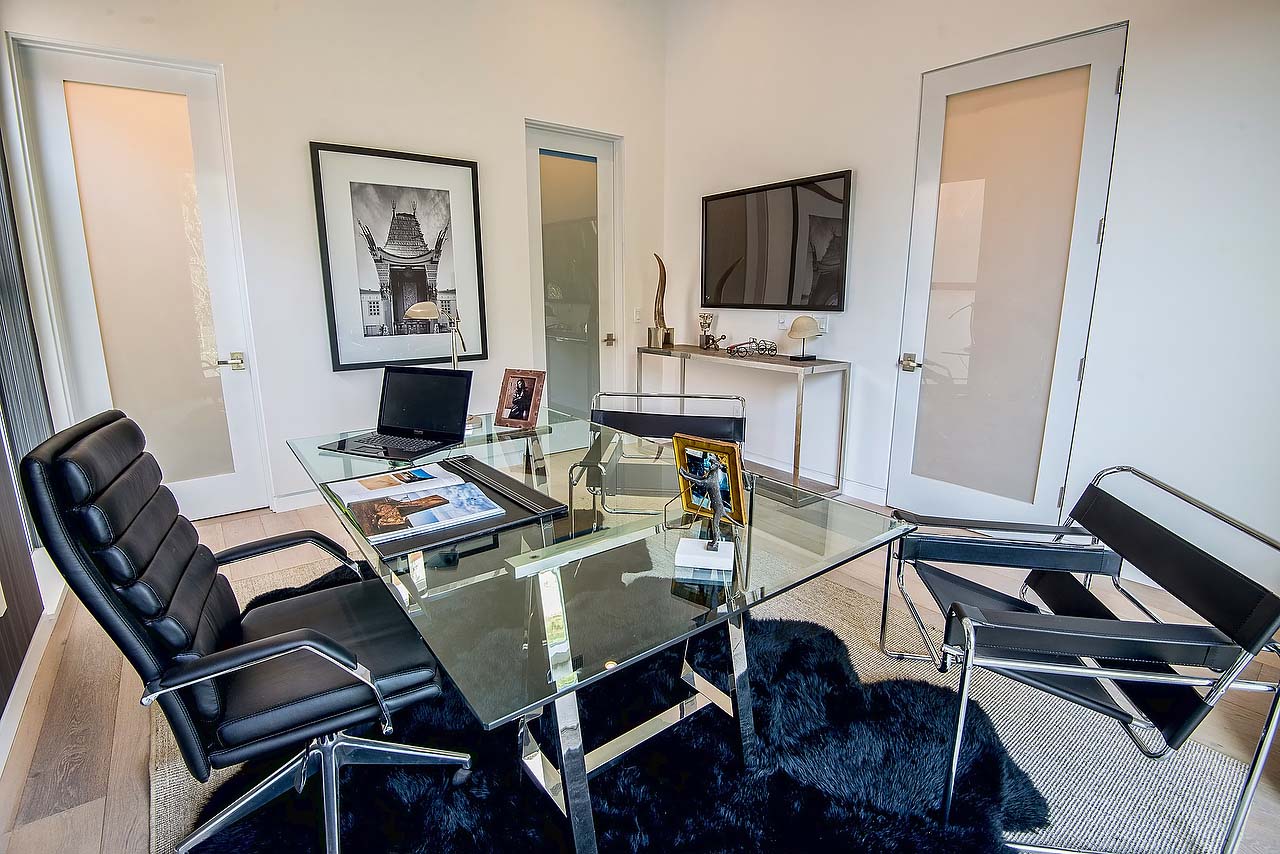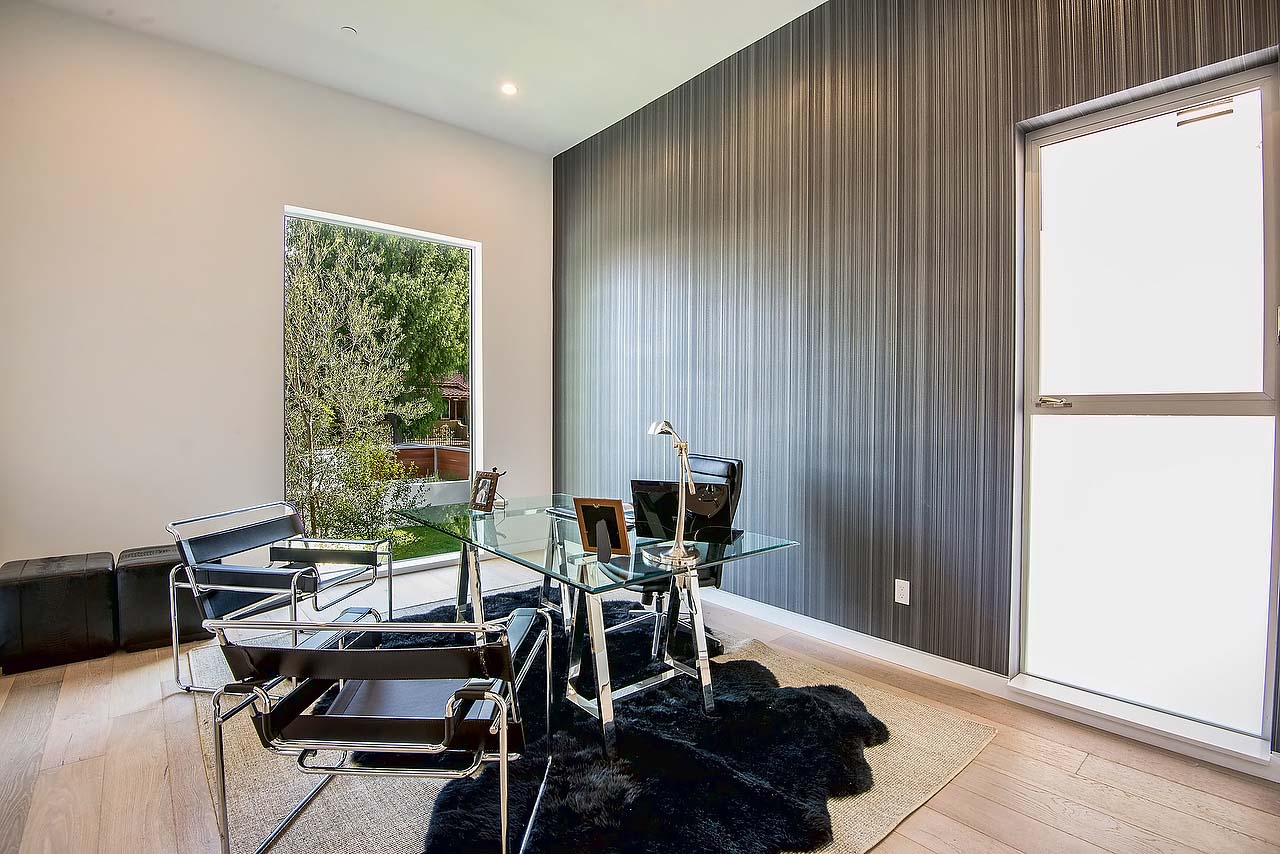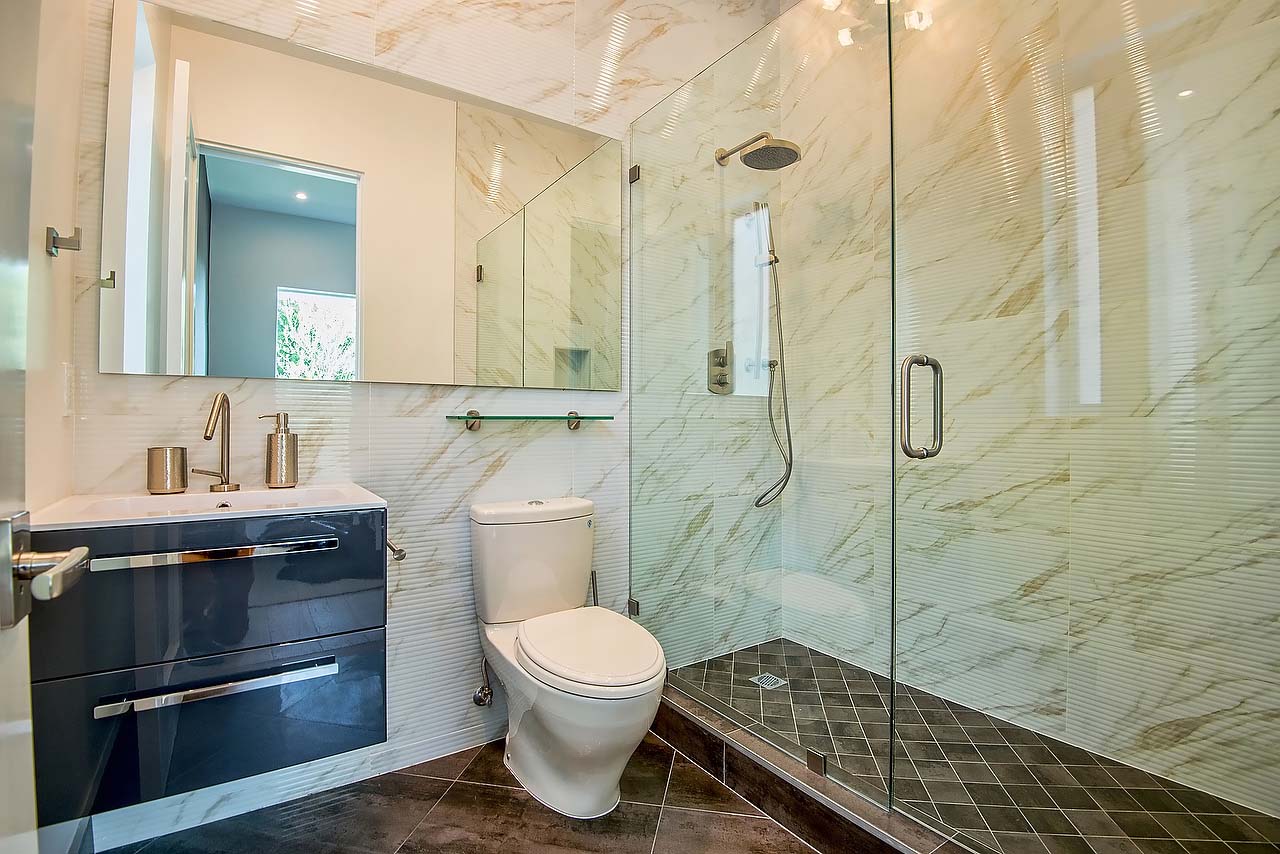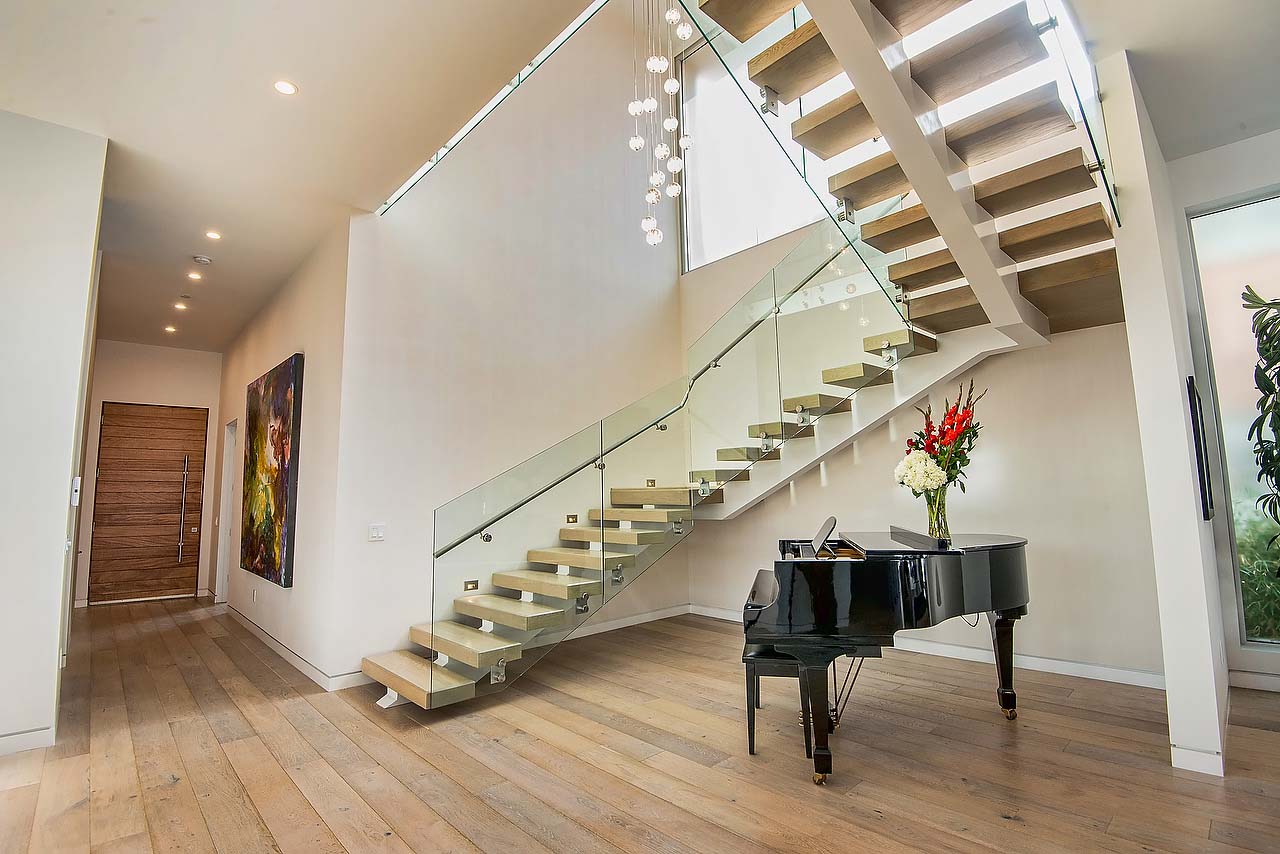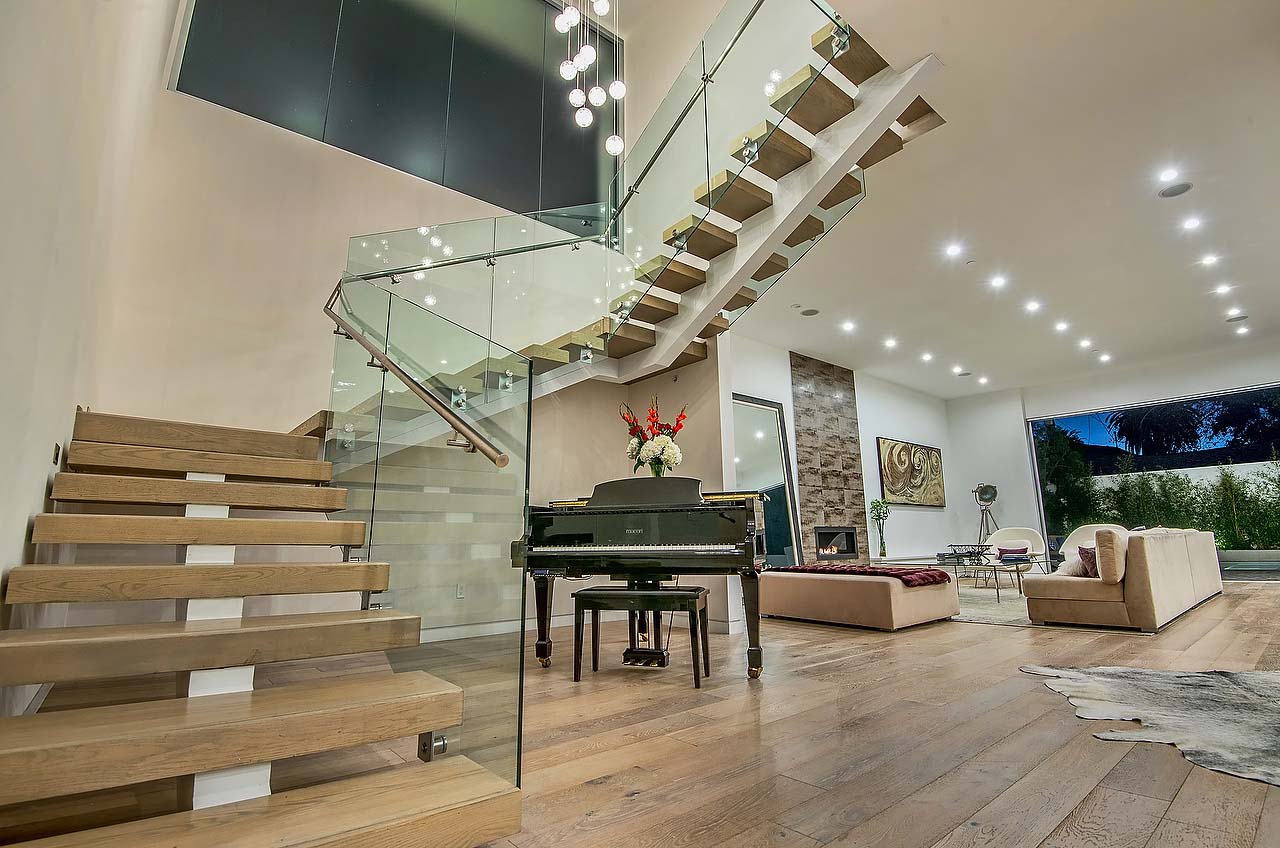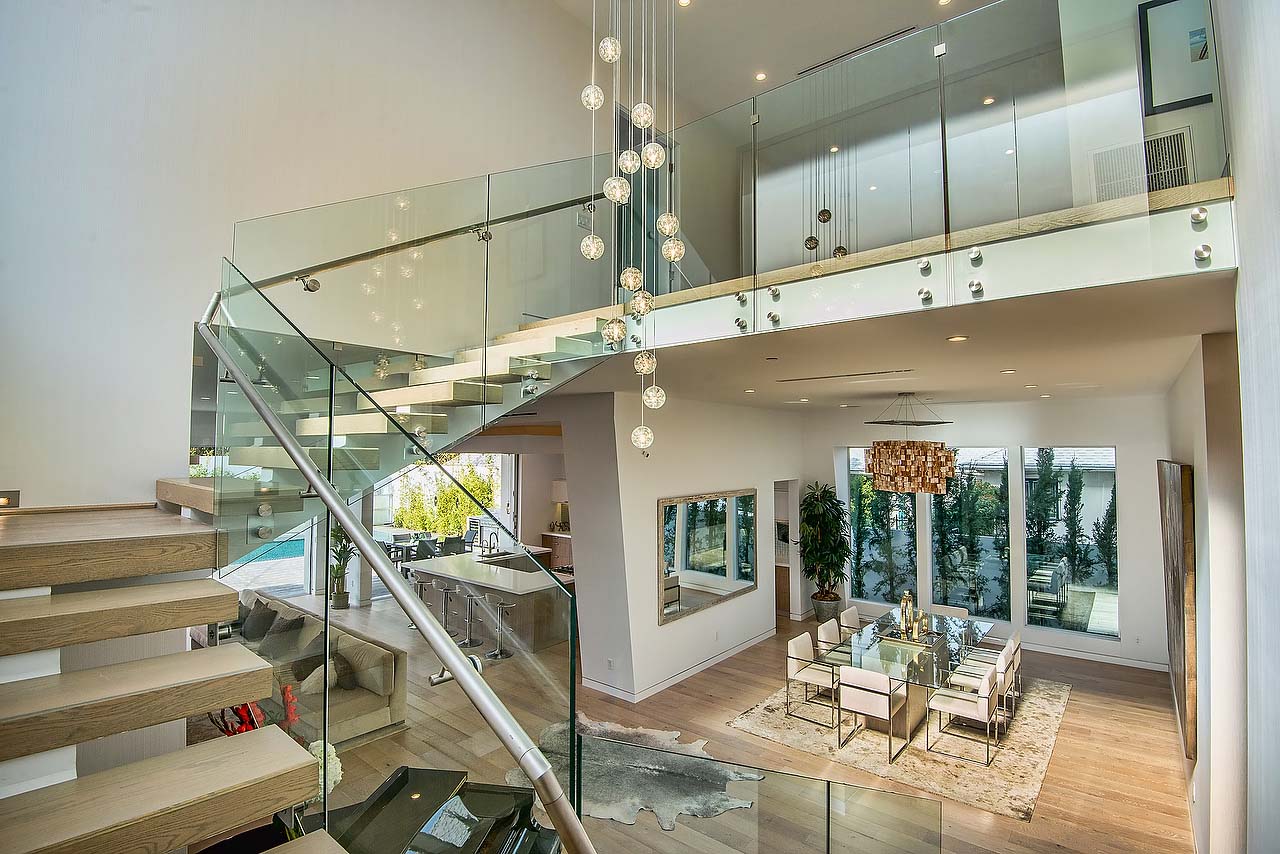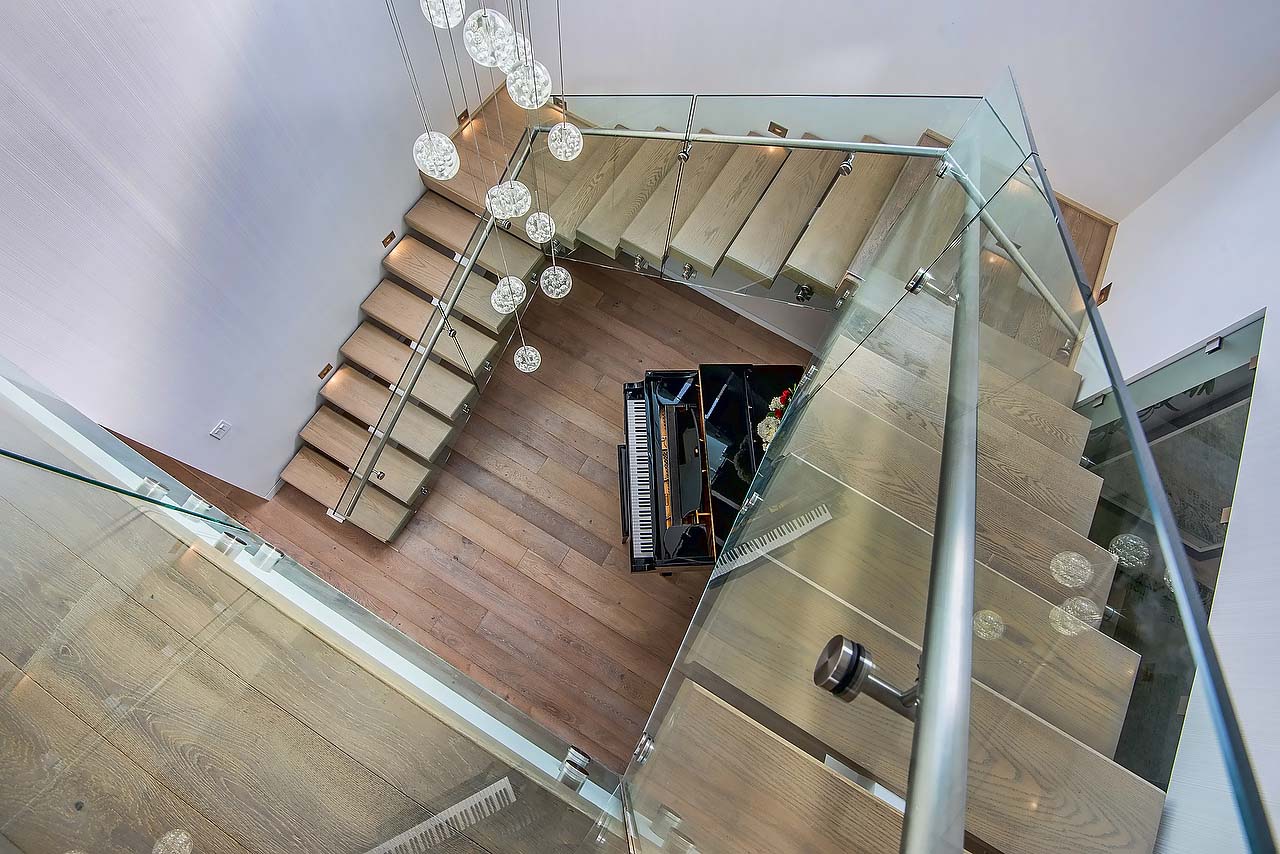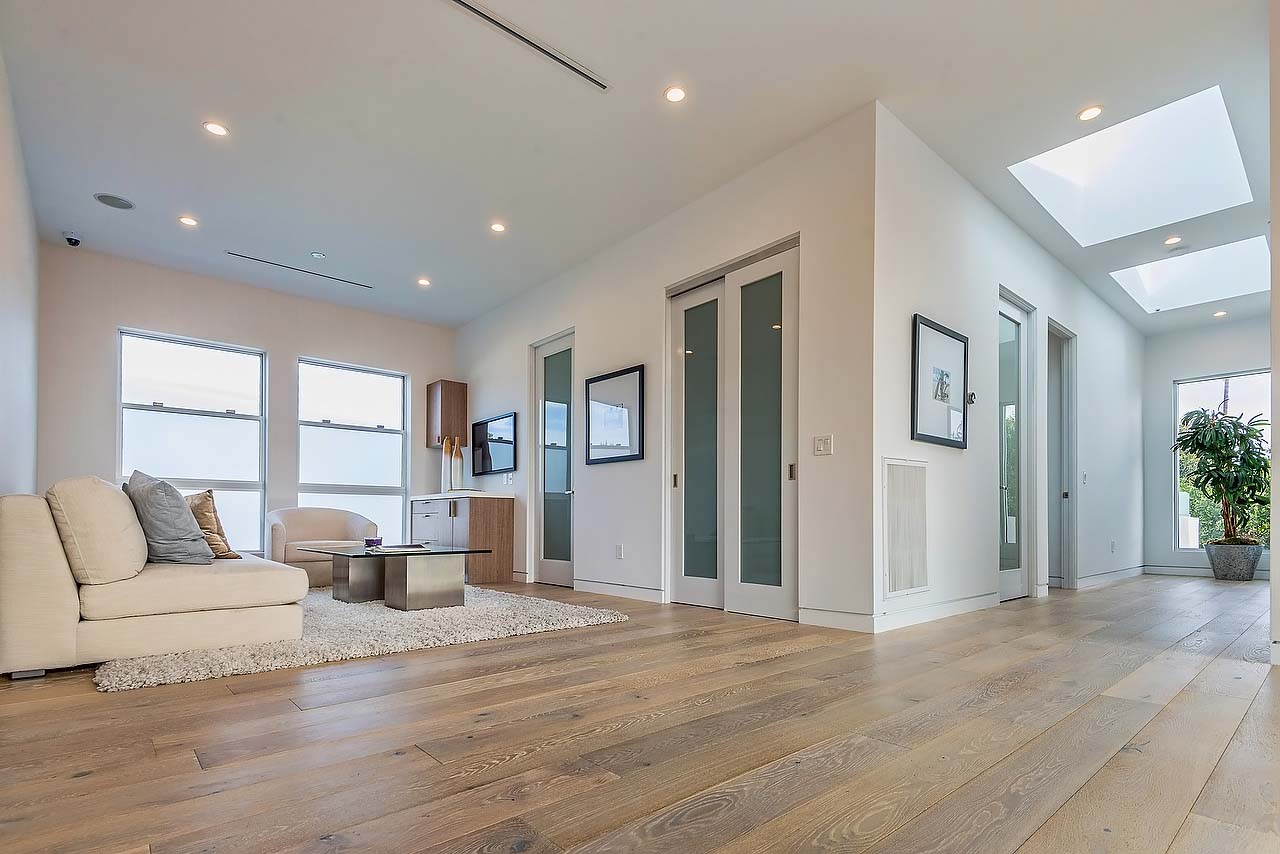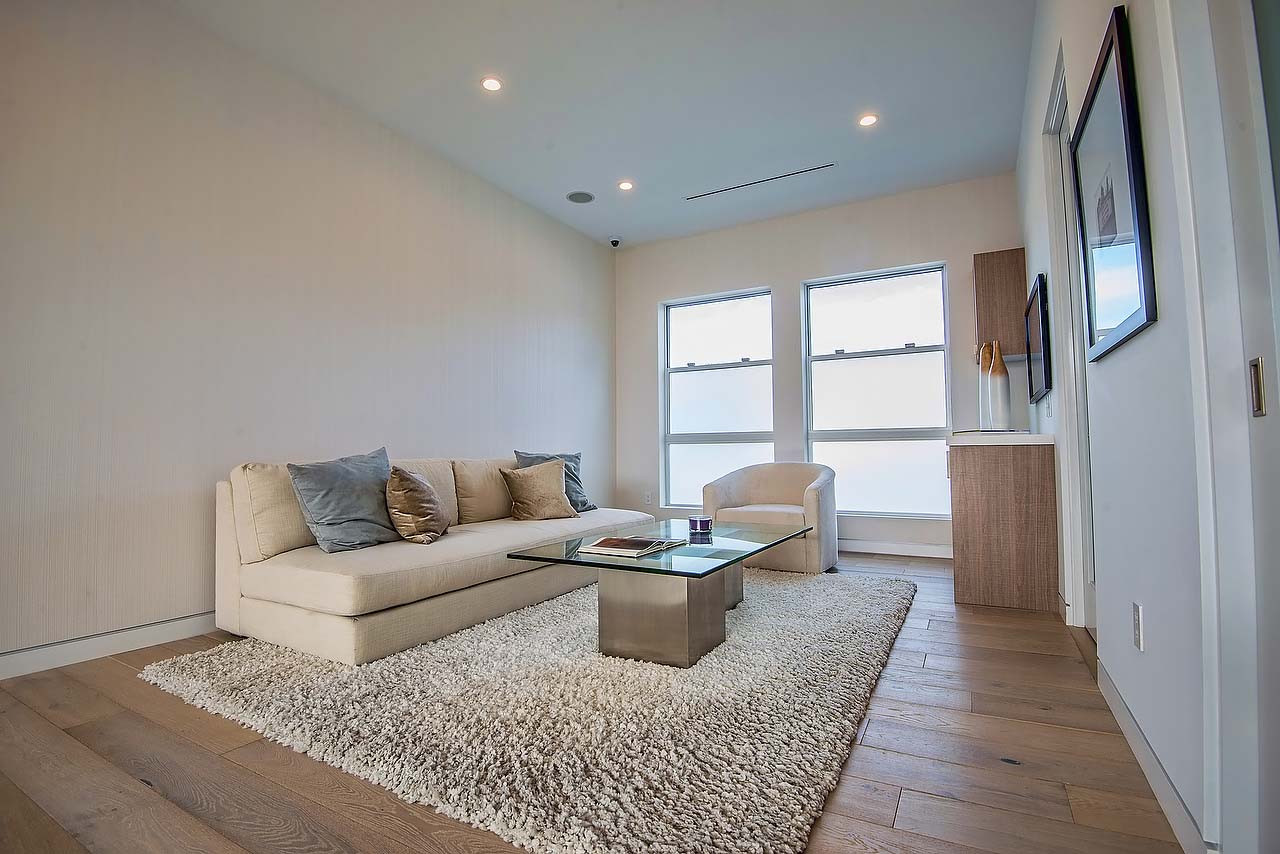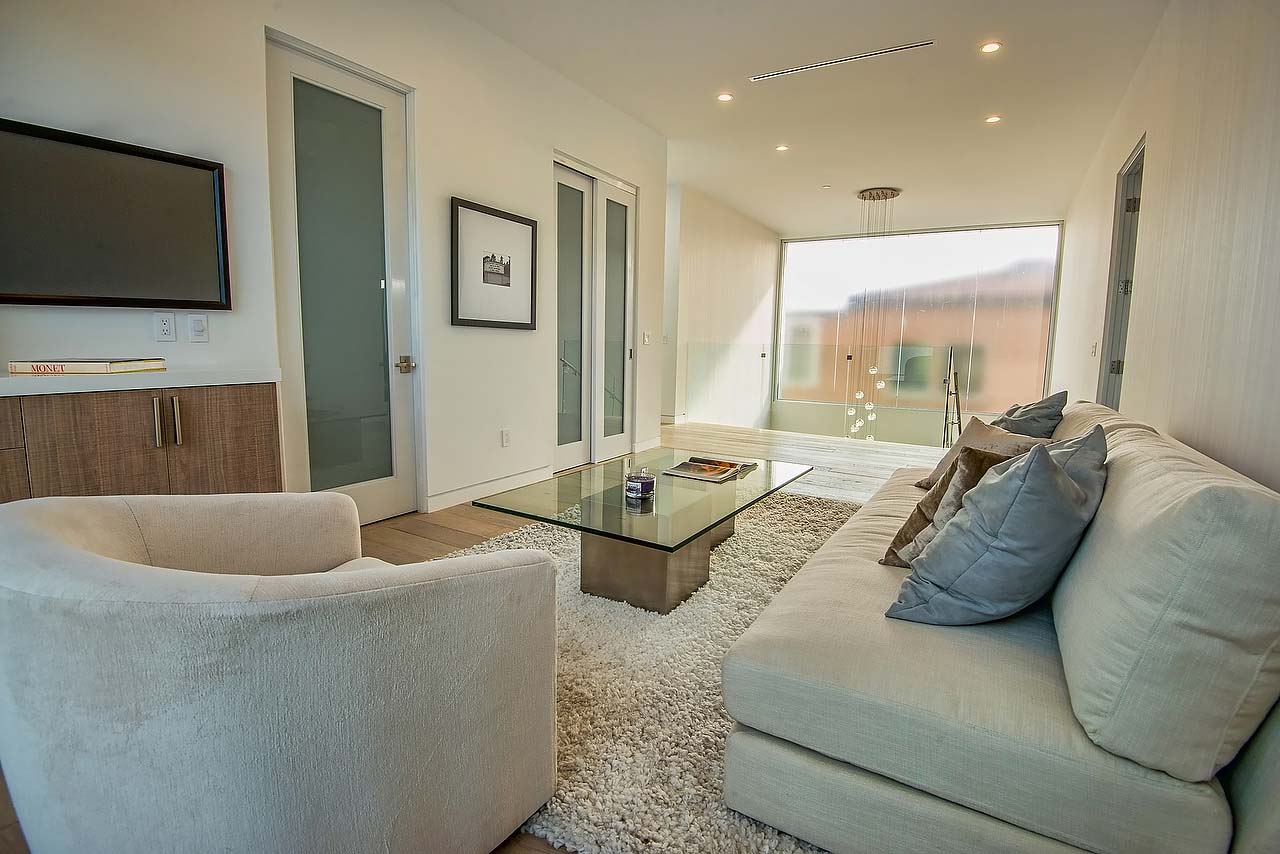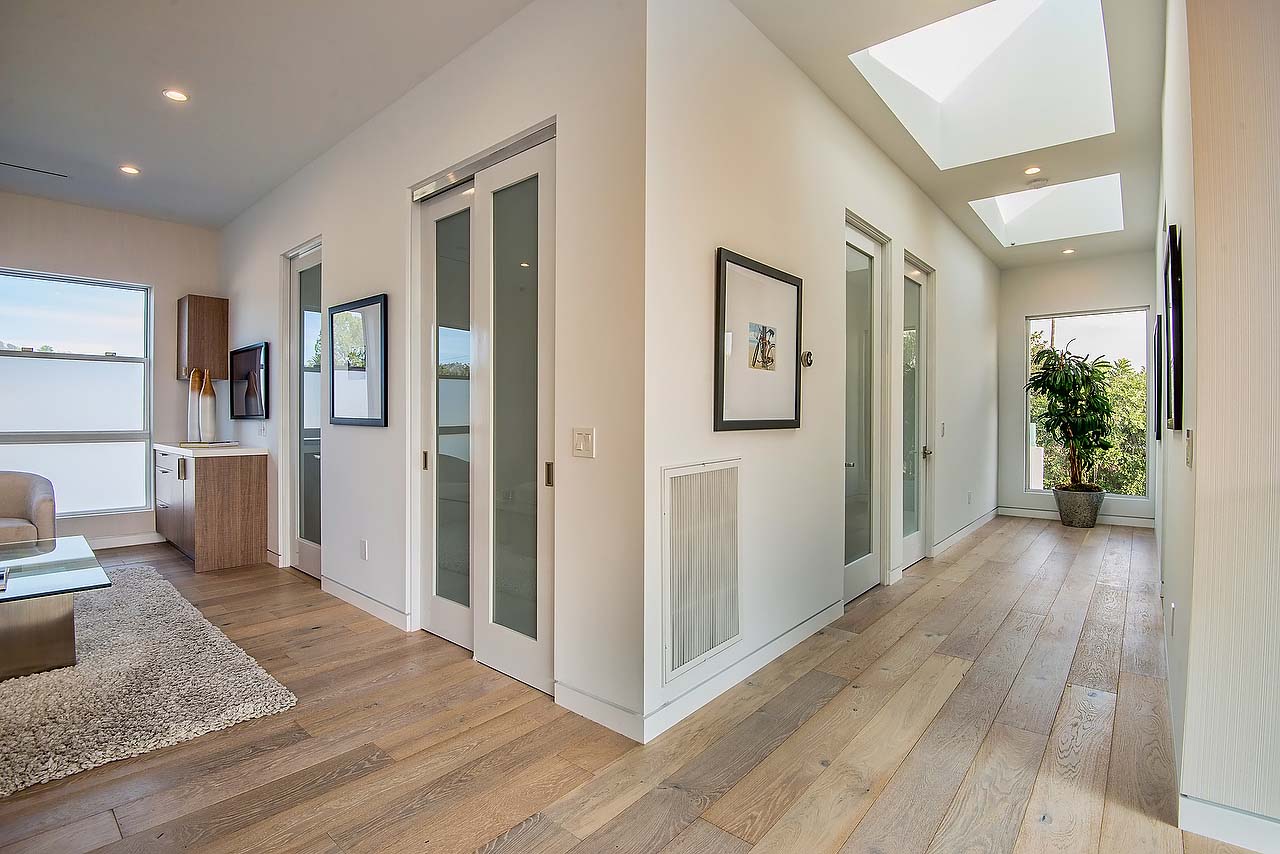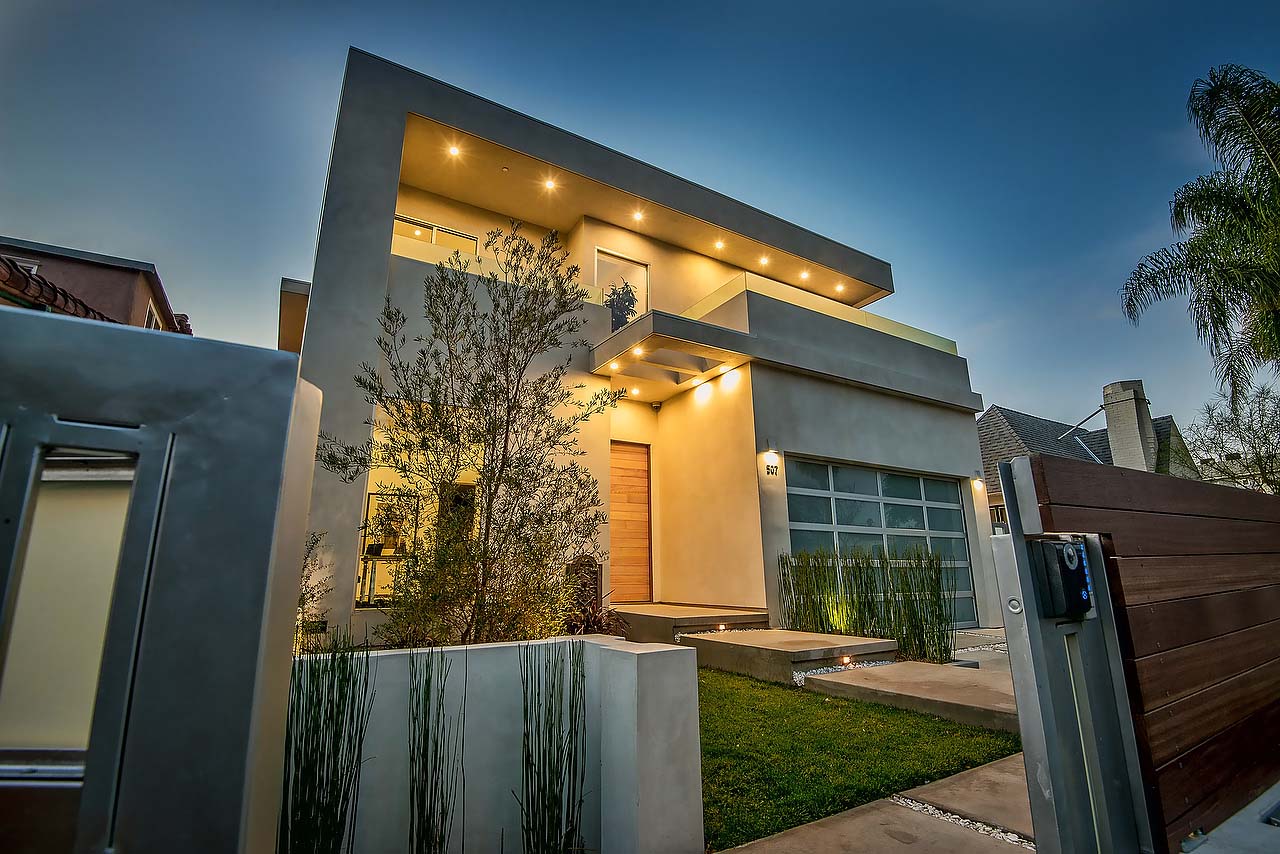 Transitioning Floors
The floating staircase leads to an additional sitting room with panoramic views of the Hollywood Hills through wide picture windows, filling the home with natural light. Across from the inviting dining room, three floor-to-ceiling windows bathe the space in sunlight from all directions. Two spacious en-suite bedrooms with terraces complete this architecturally stylish and elegant home.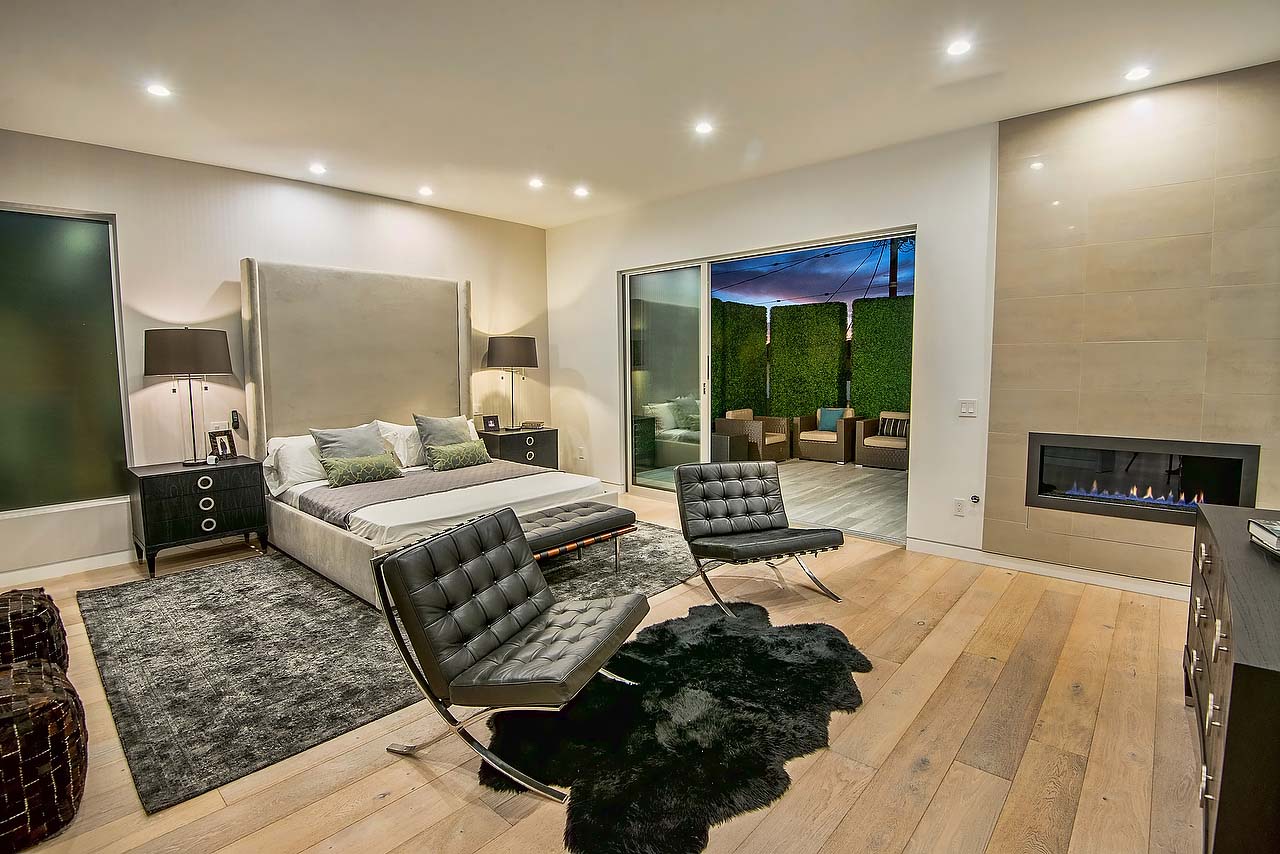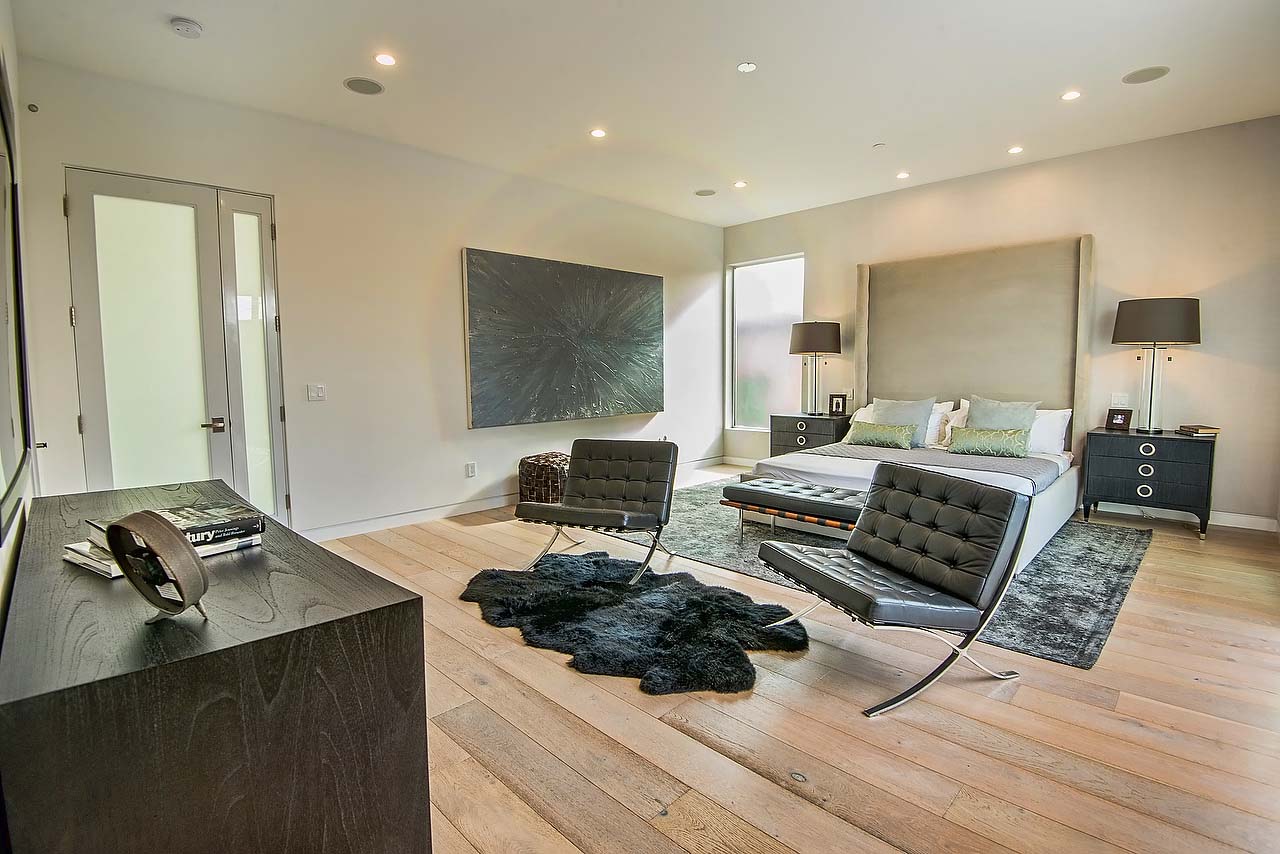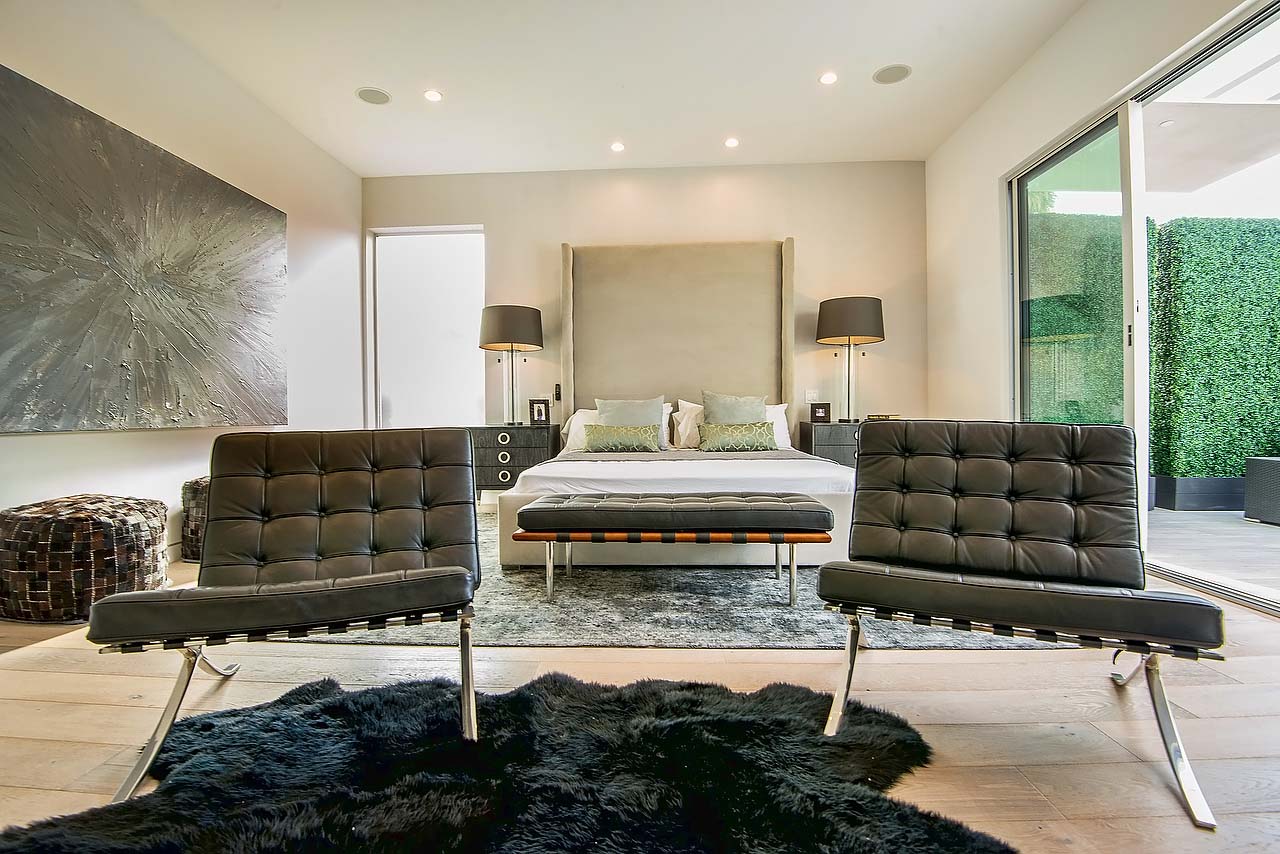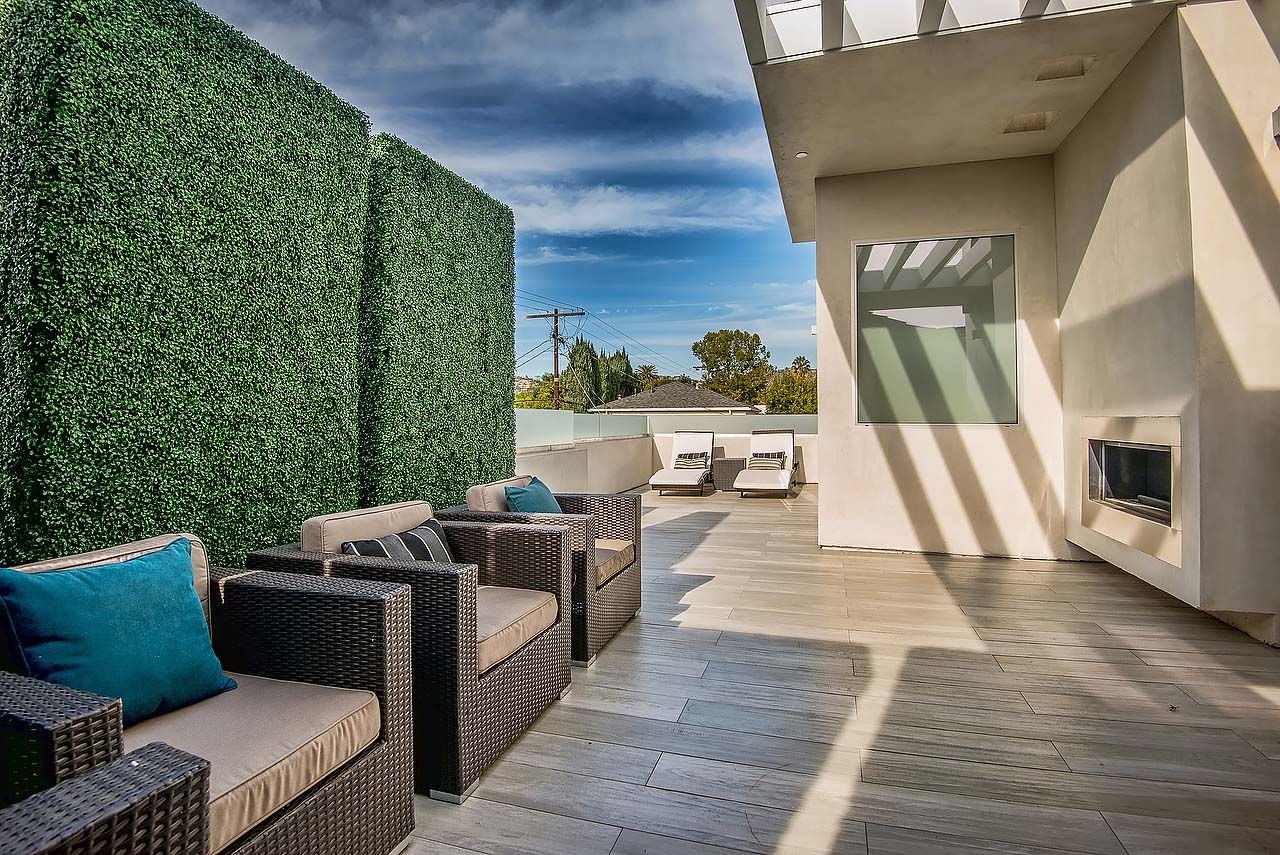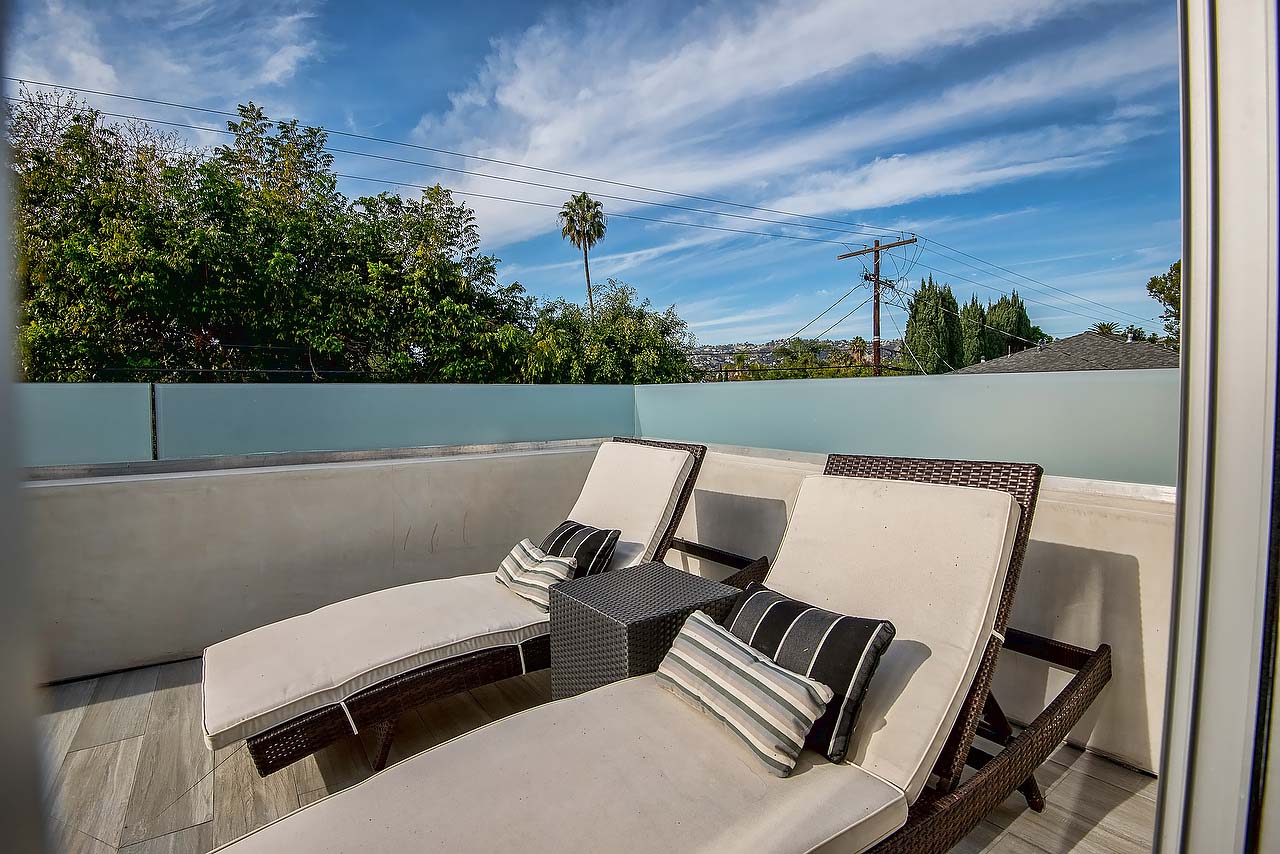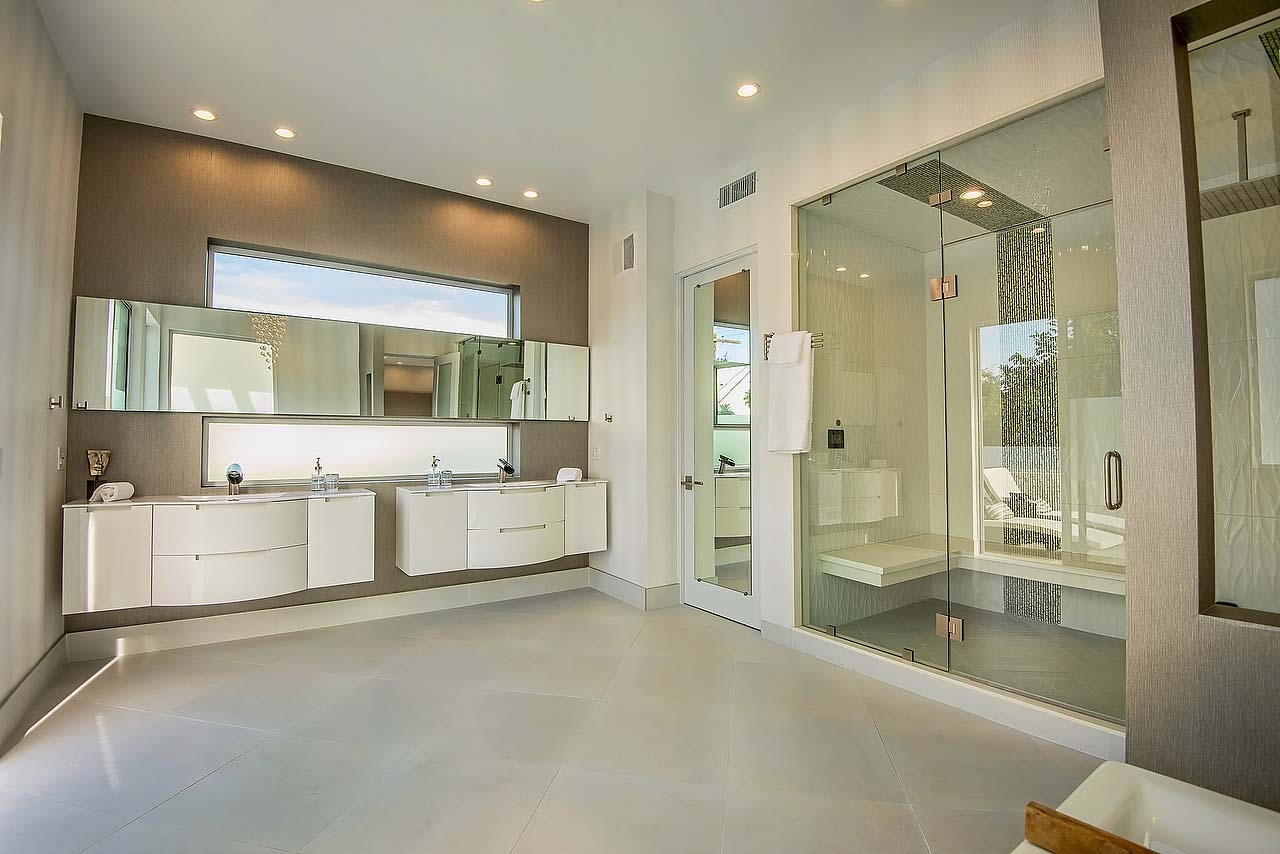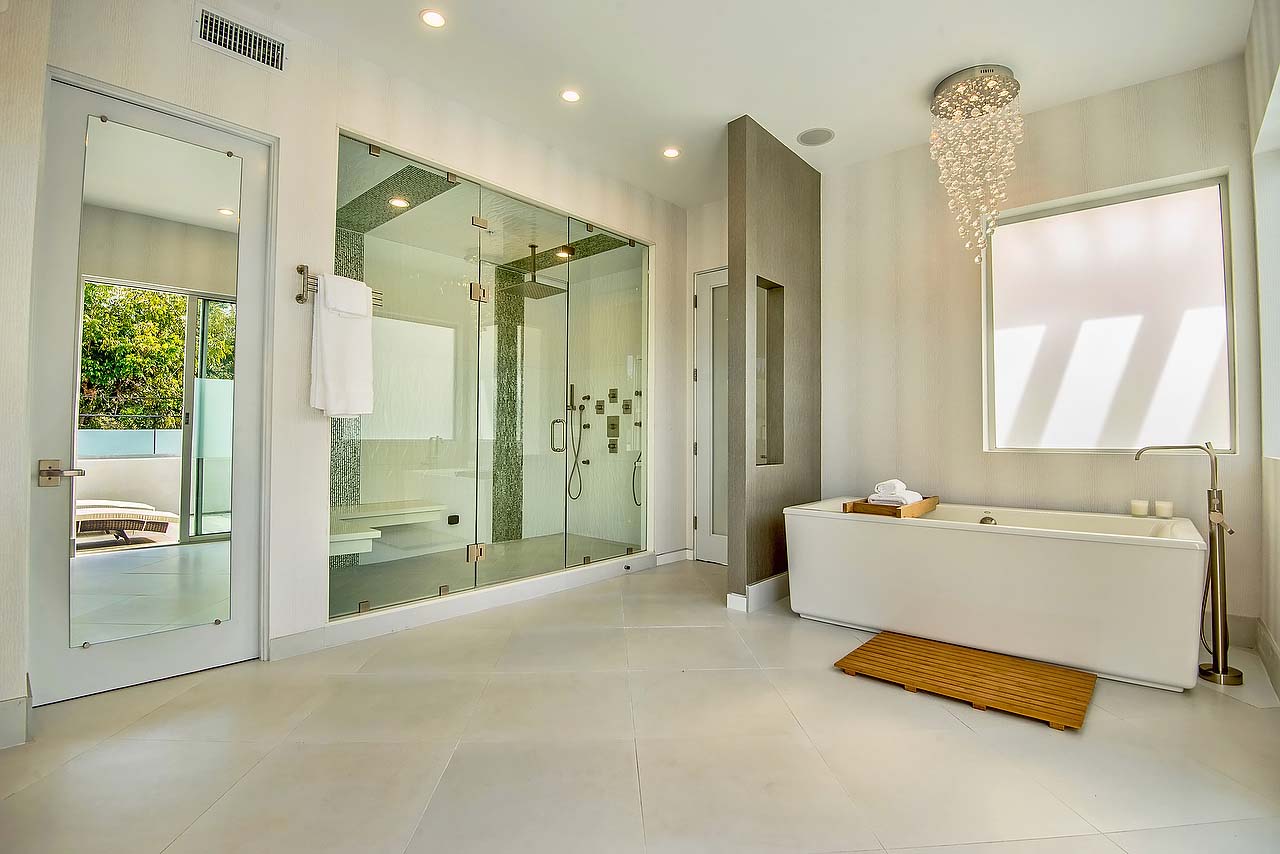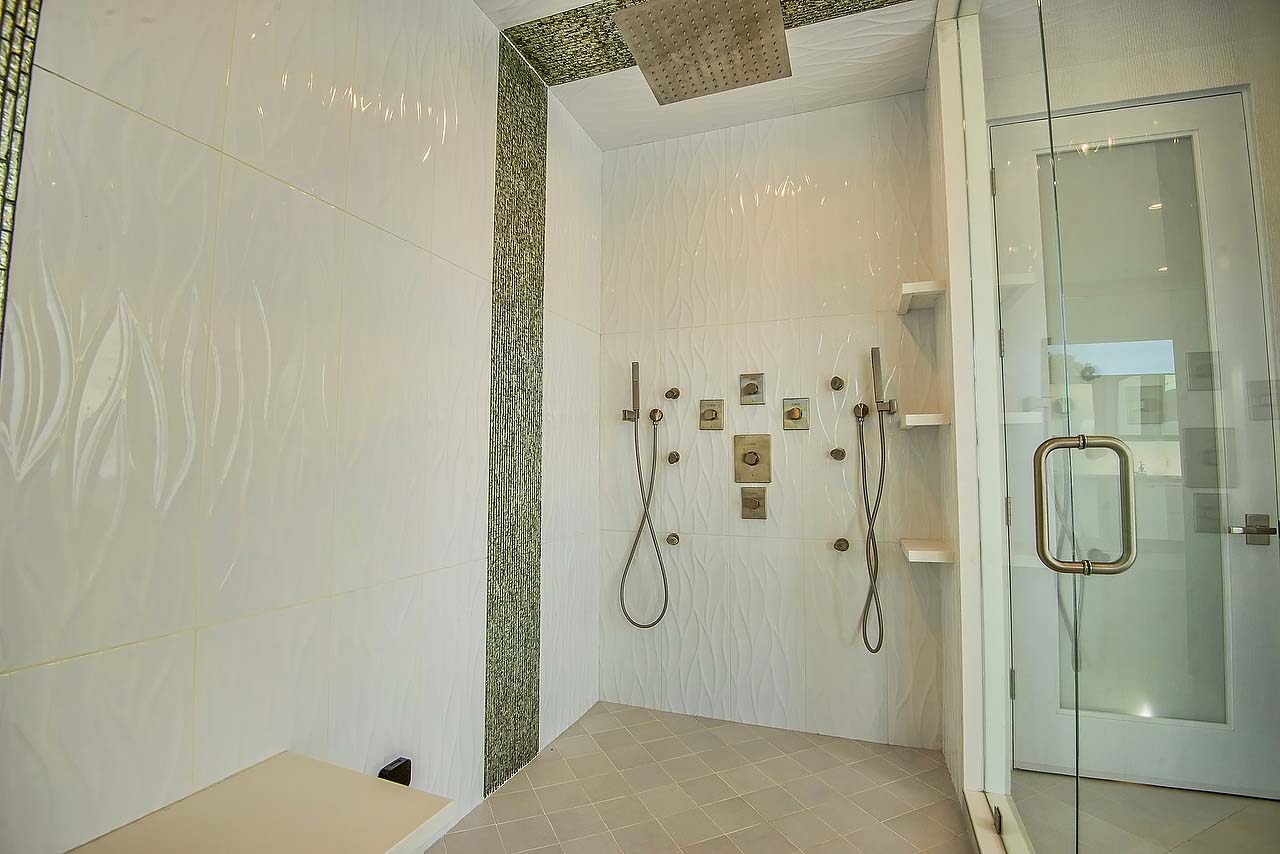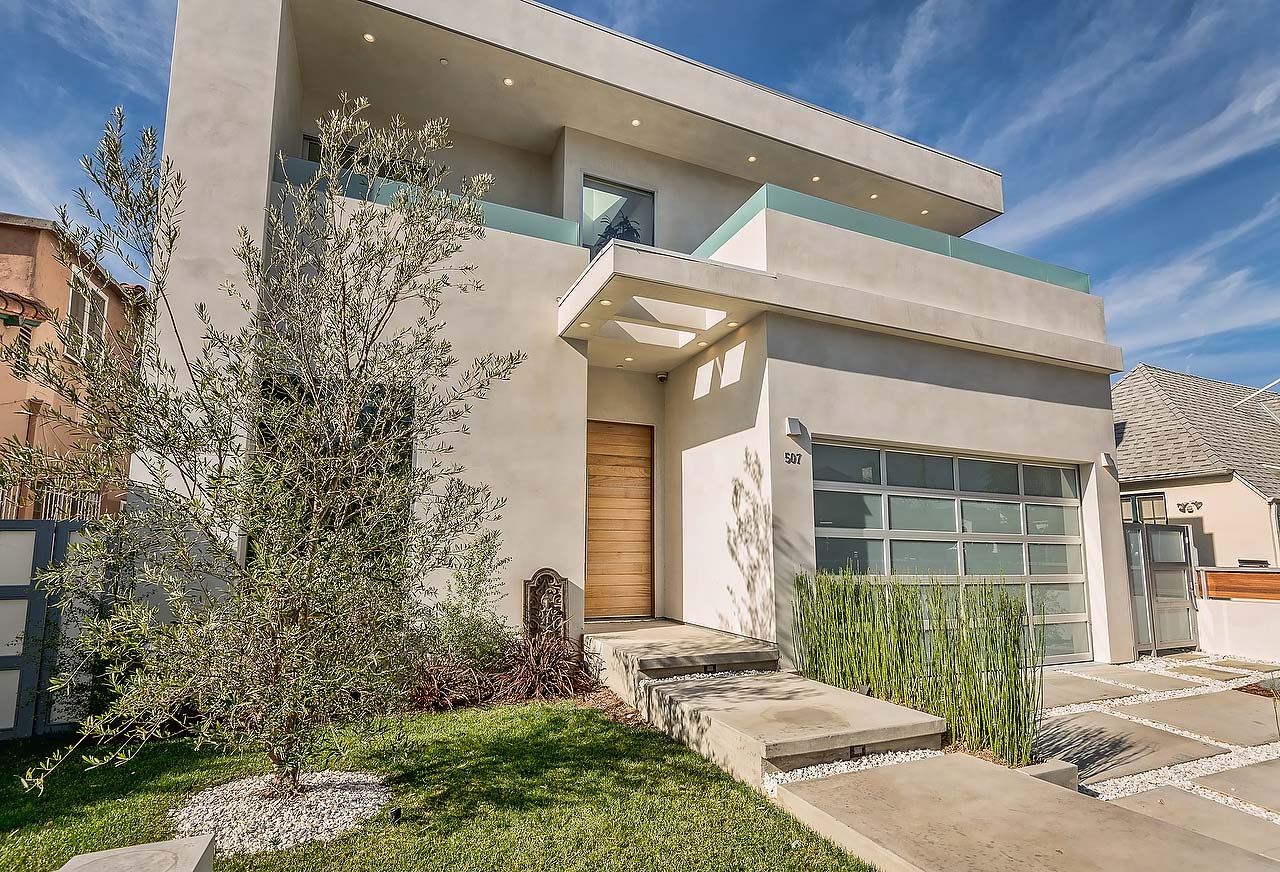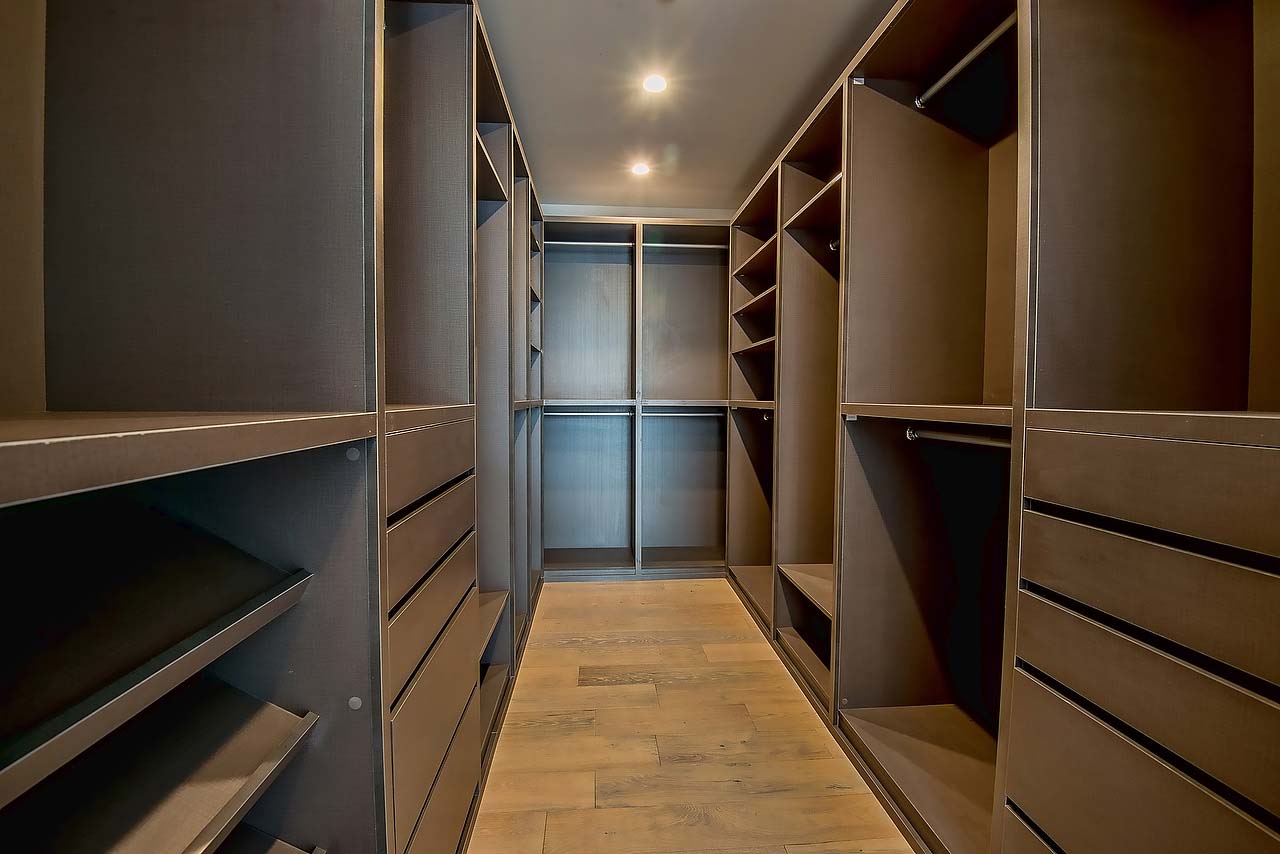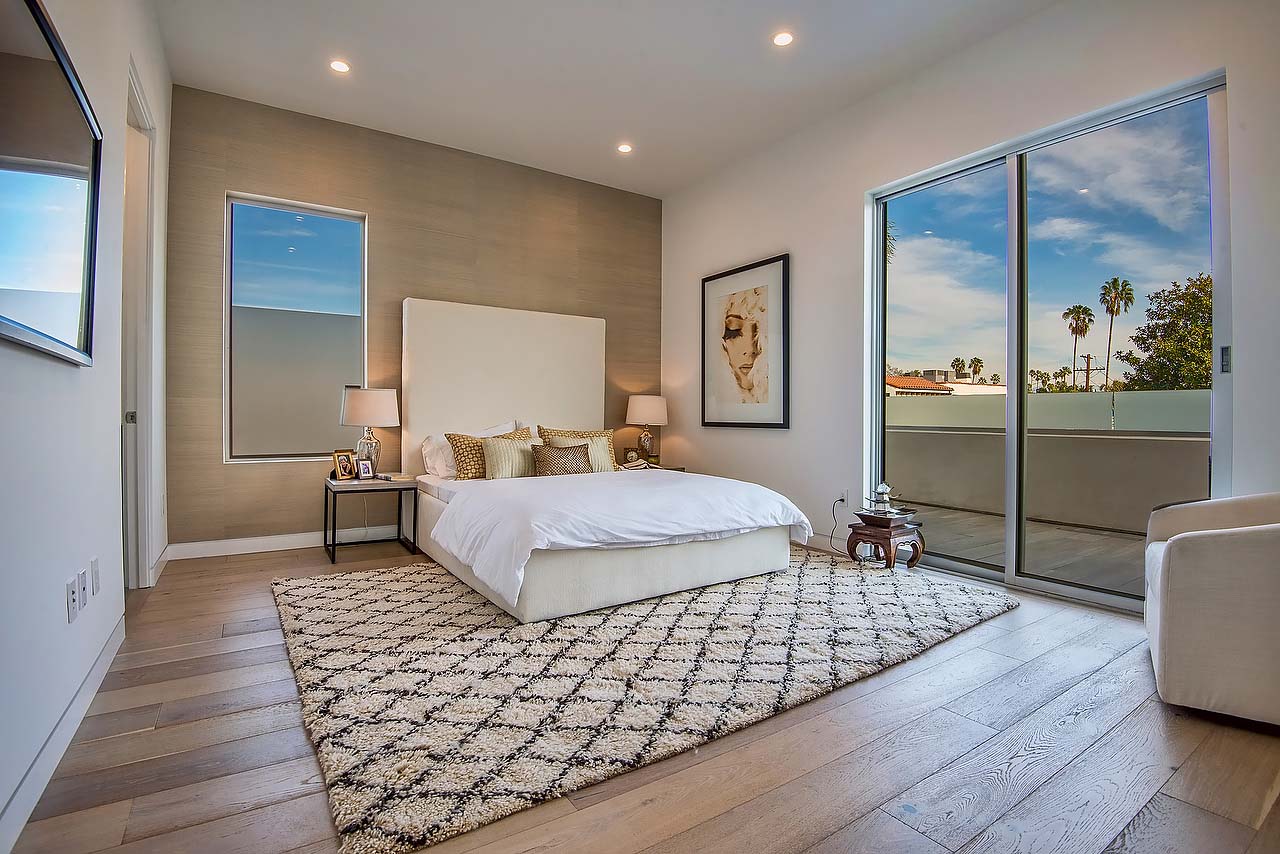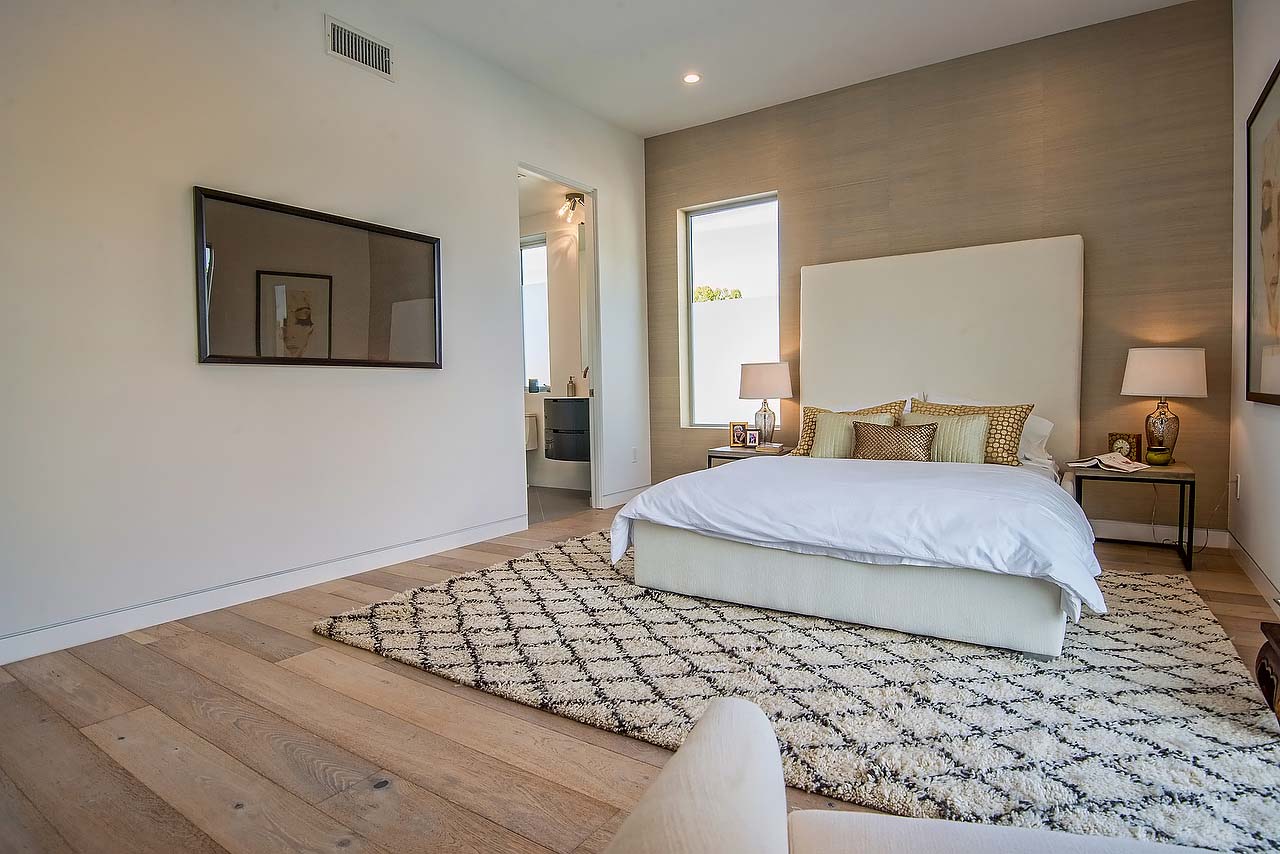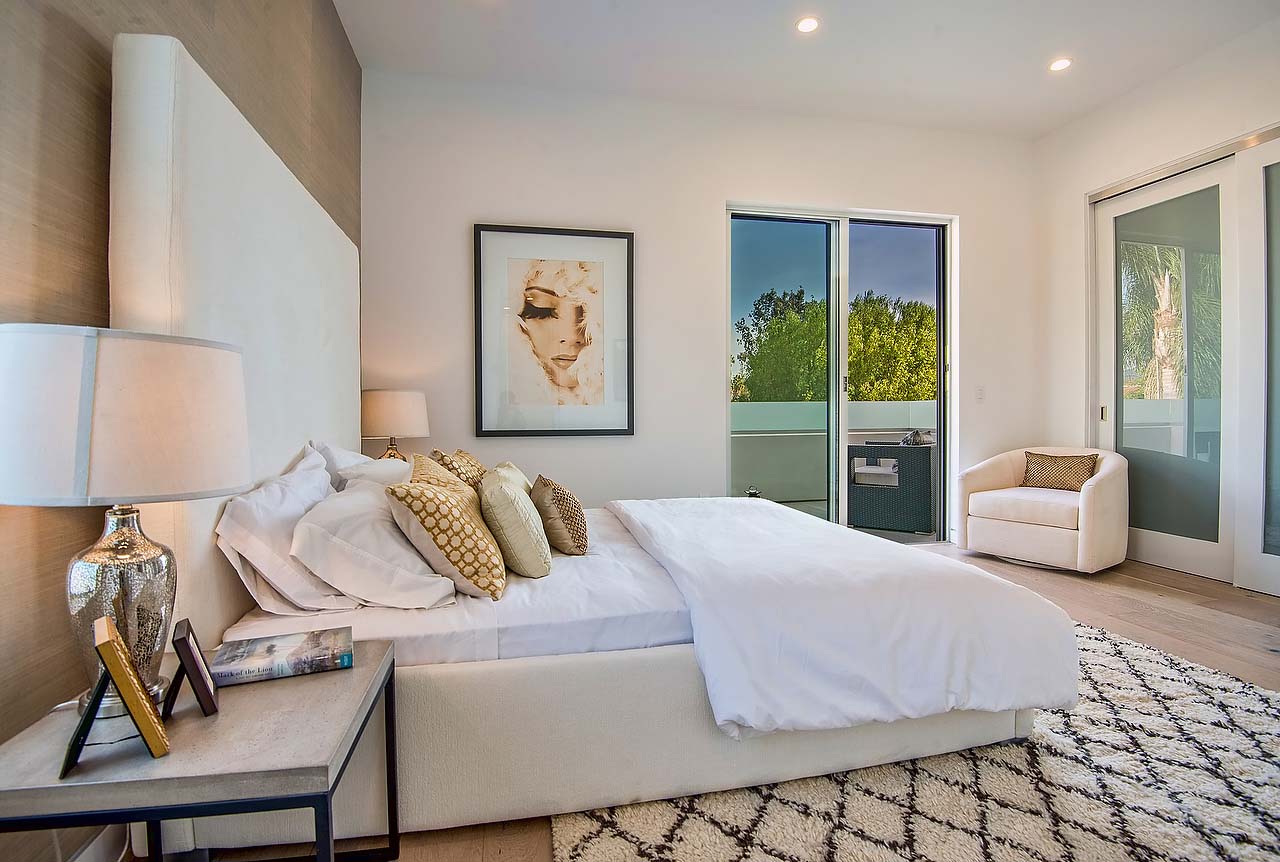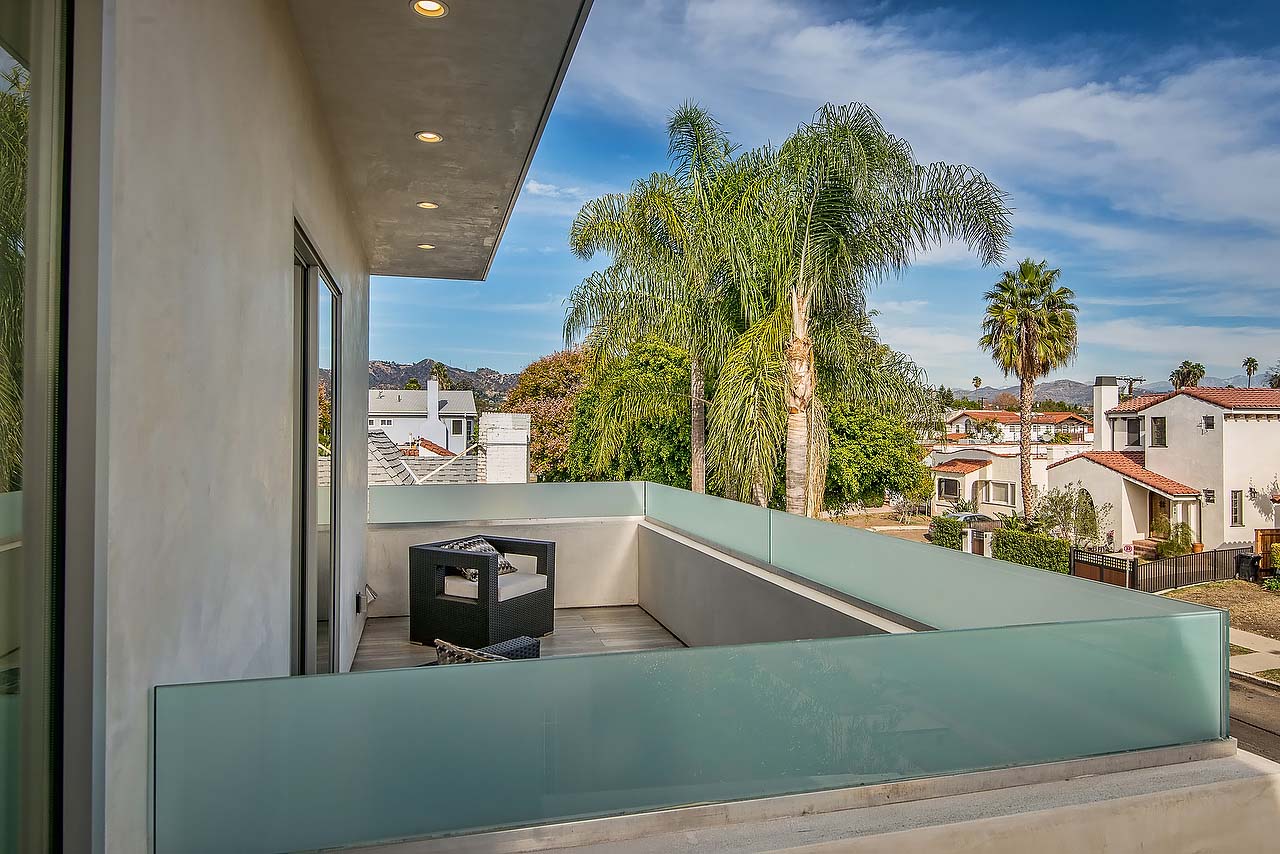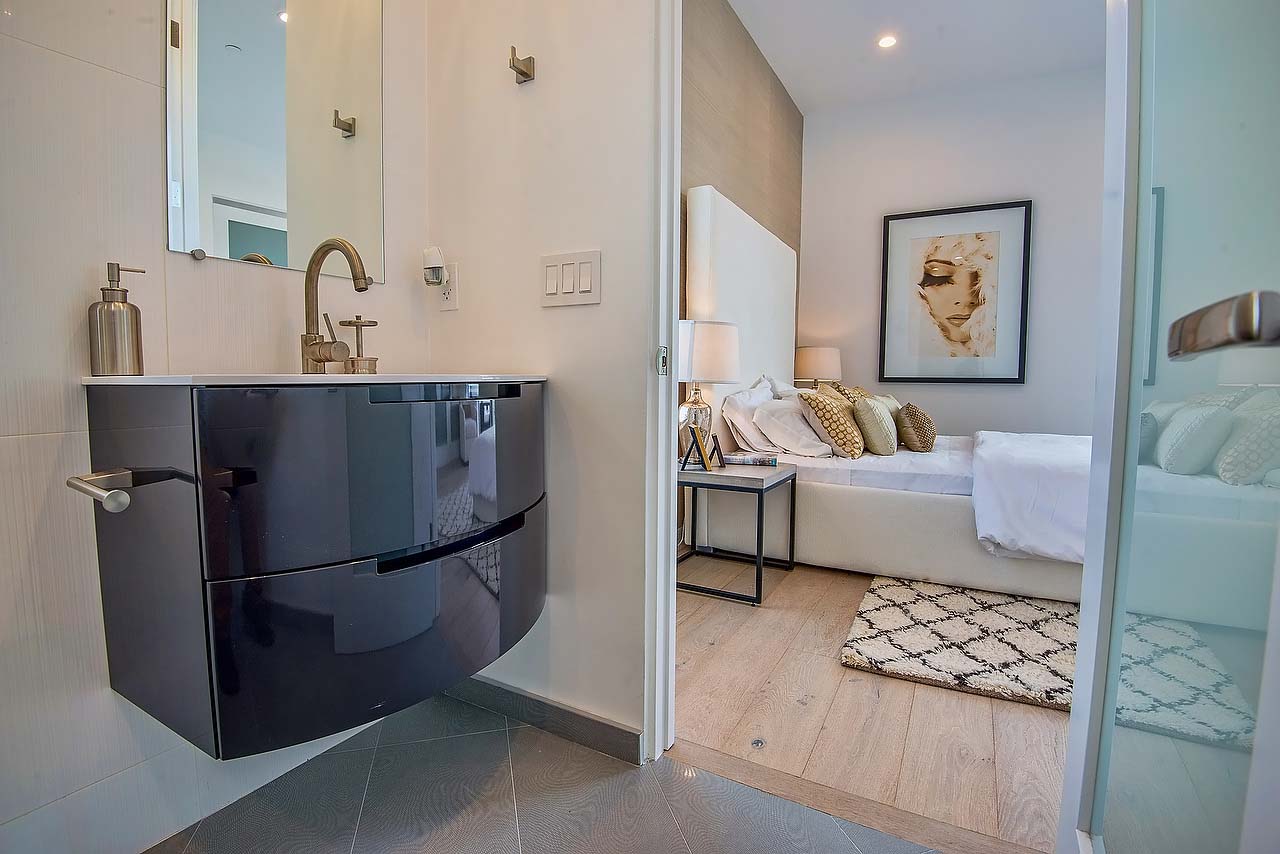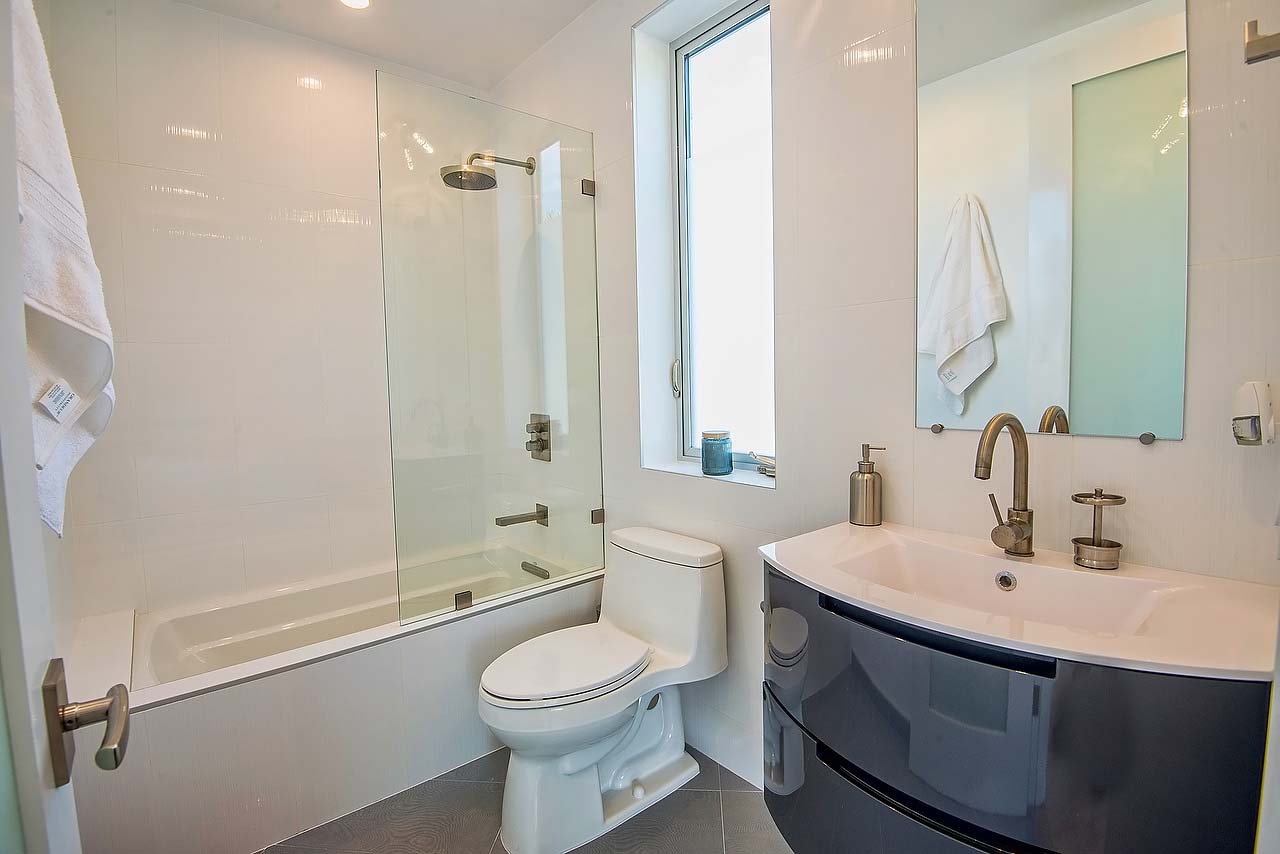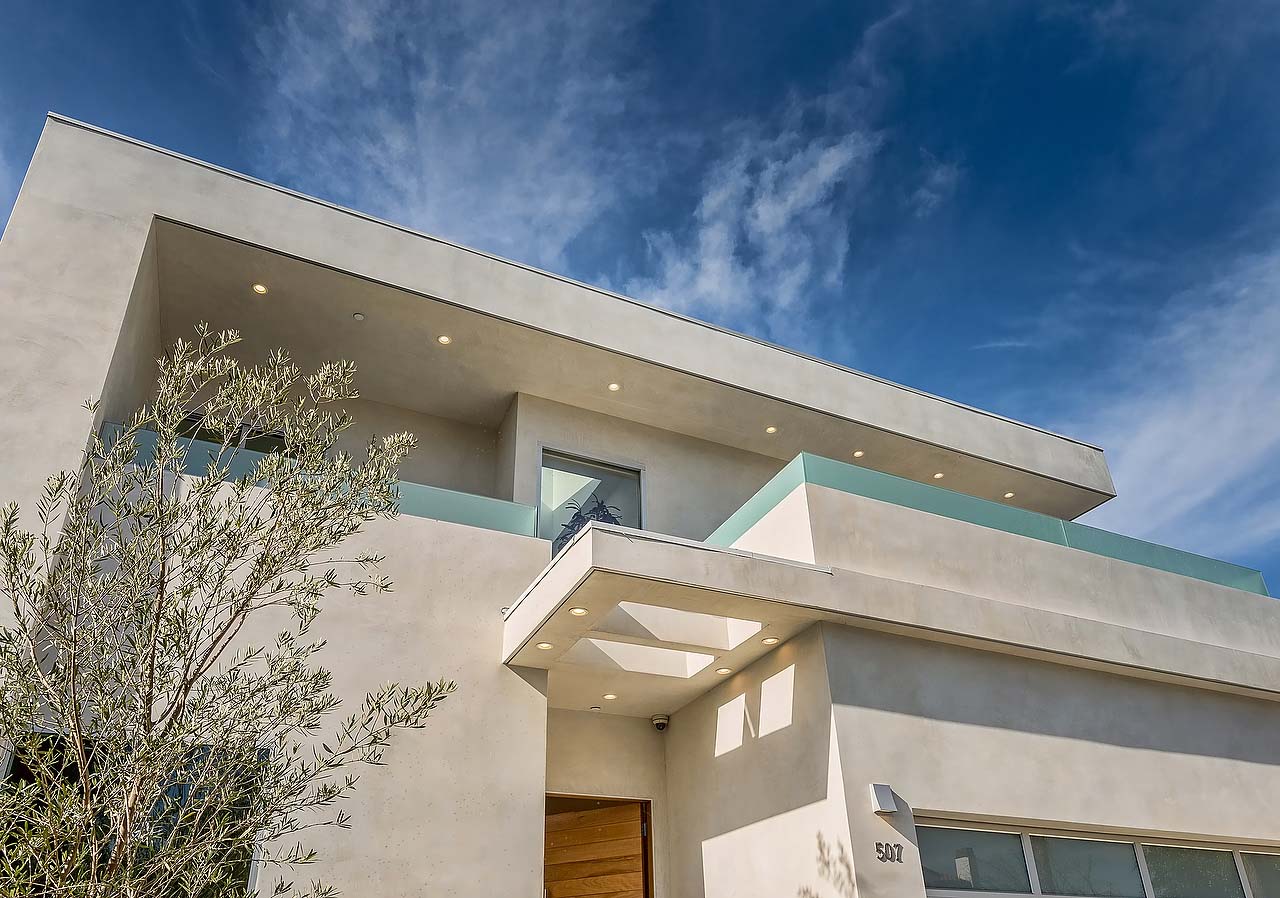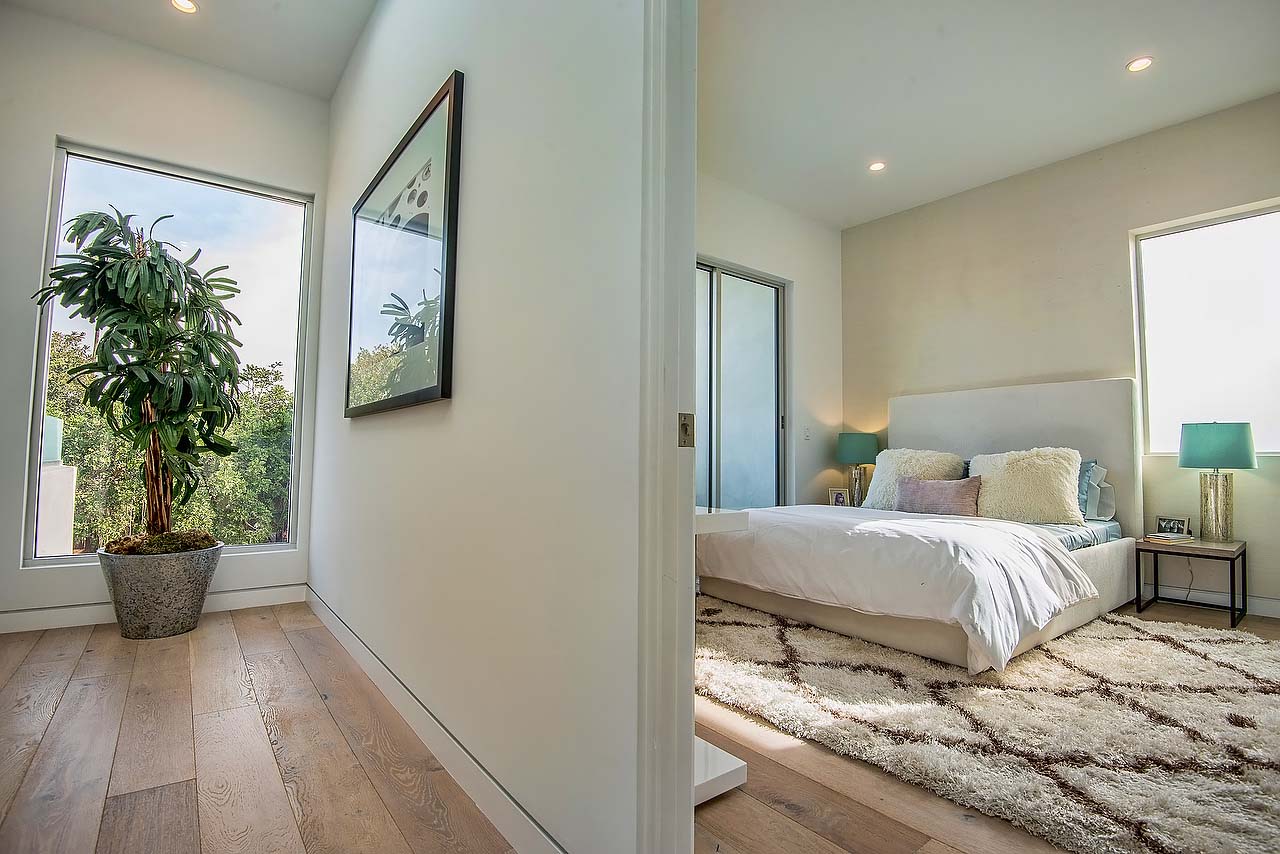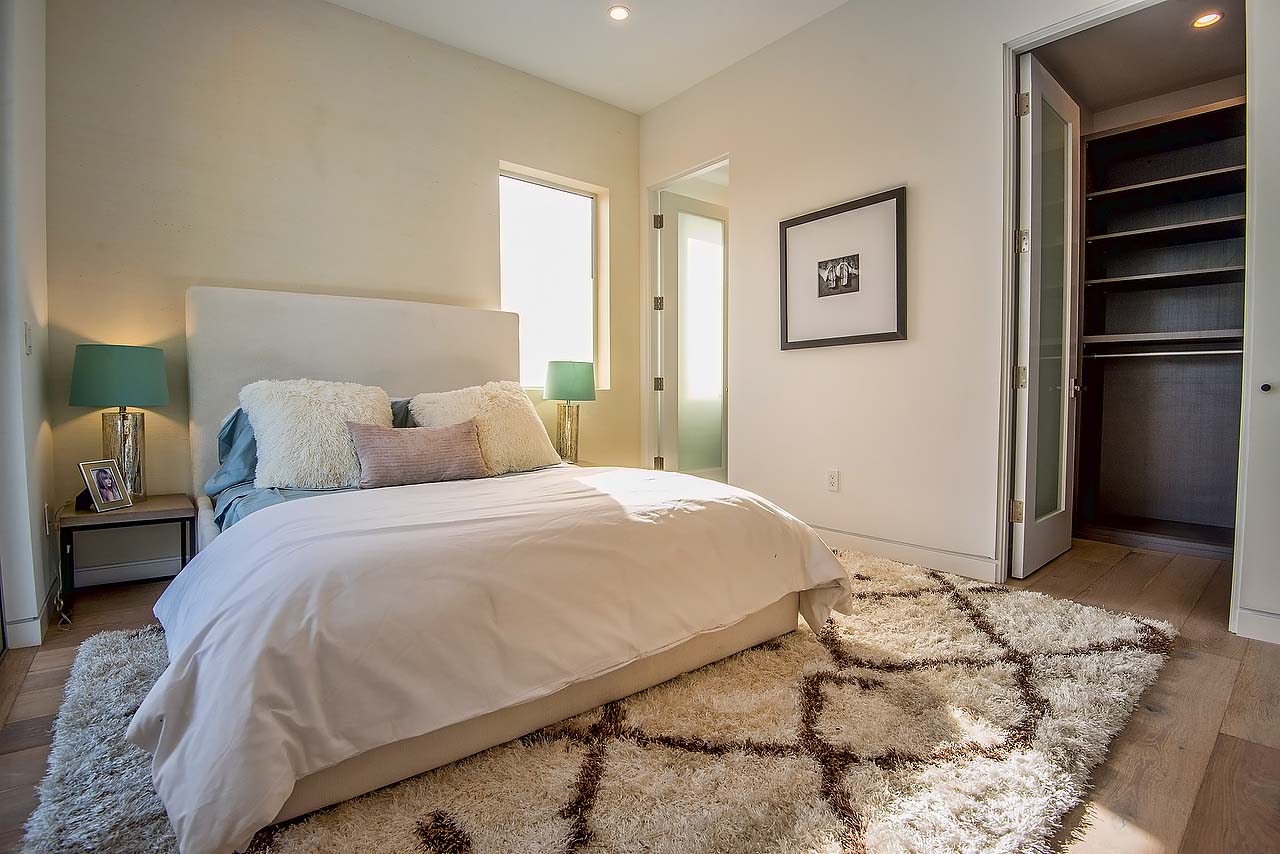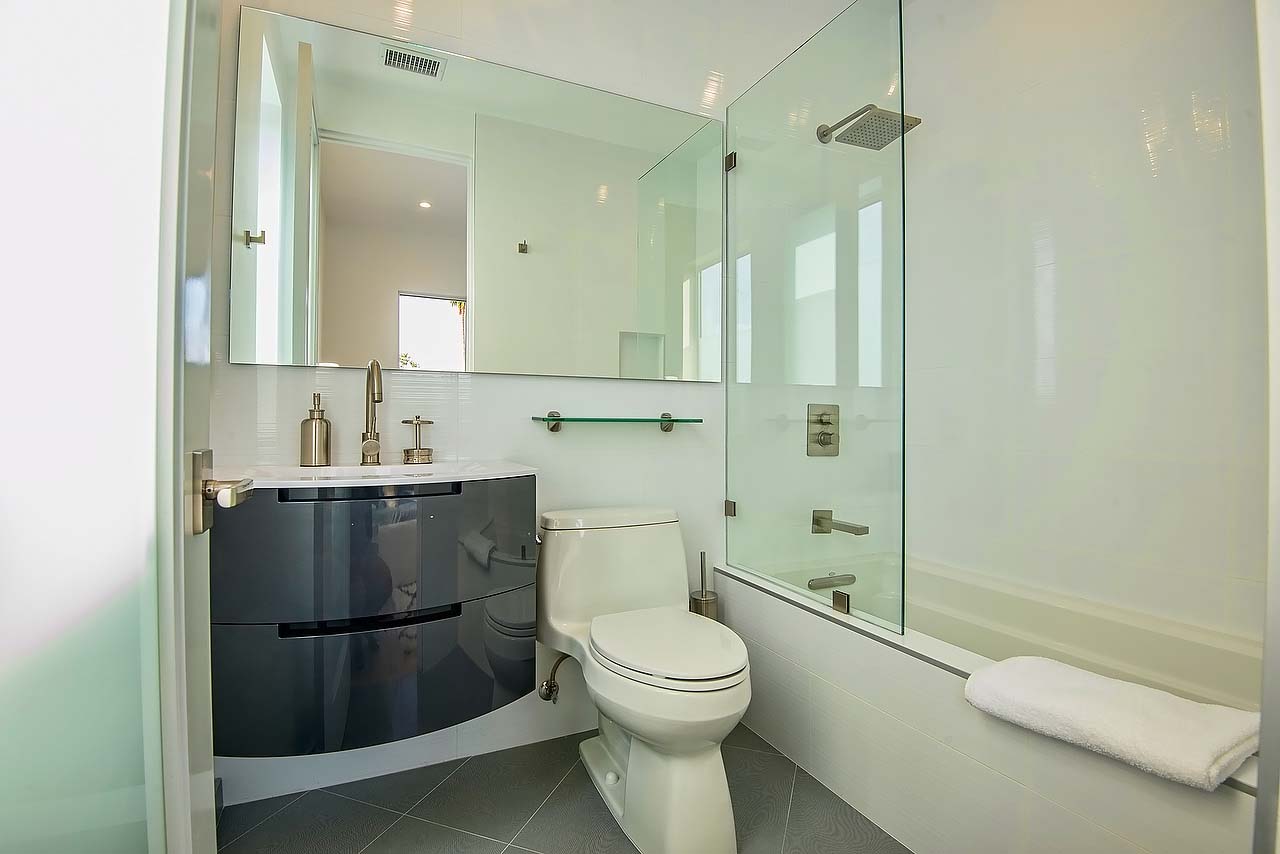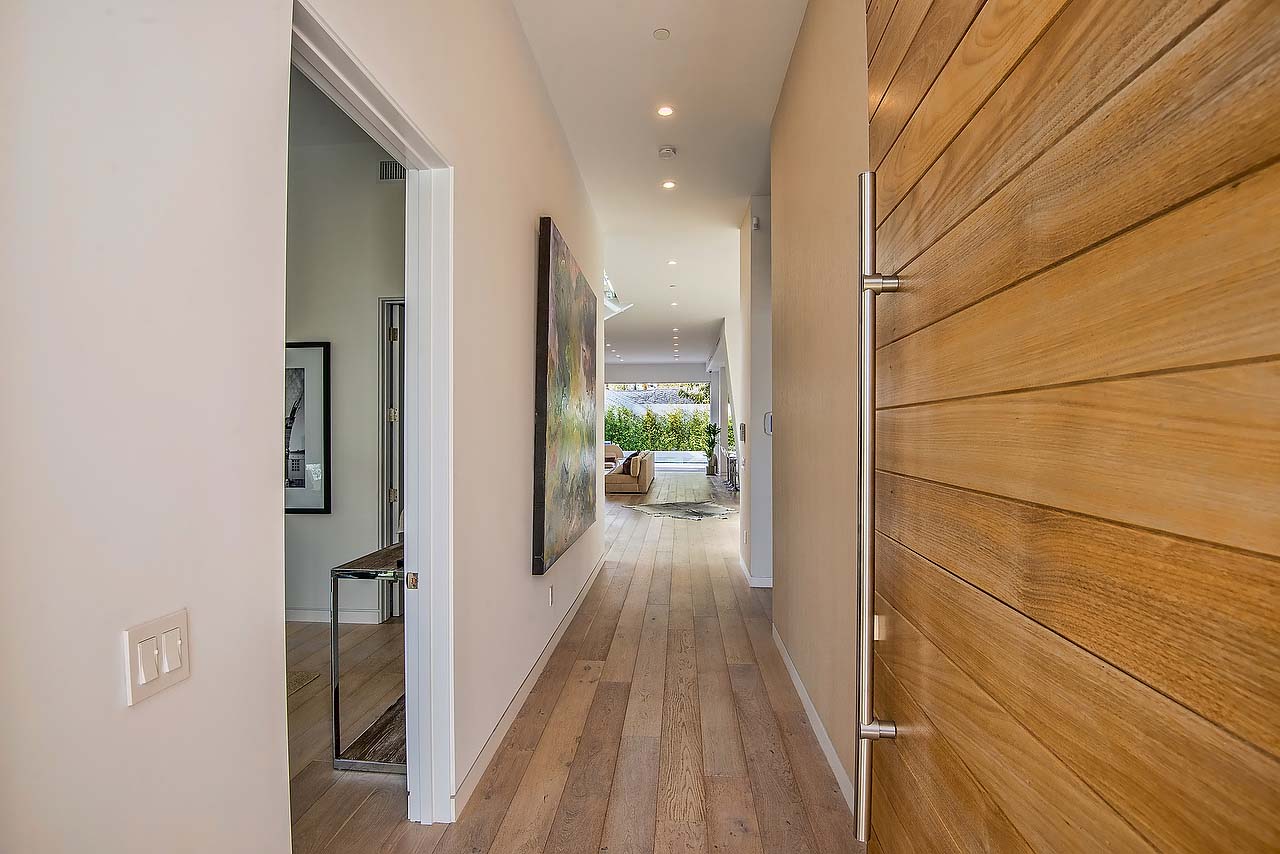 The Bedrooms
All bedrooms have access to private balconies, with the Master suite having an oversized private balcony, fireplace, a walk-in closet & spa-like bath. Welcome to quintessential California living.
The master suite felt like a resort of its own with an exceptionally large balcony dual fireplace that warms the inside as well as the outside covered with modern wooden tiles. The bathroom offered a large shower with double rain shower heads, two vanities, using white tiles and cabinetry keeping the modern and clean line look.